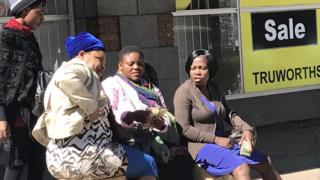 Nothing shows the desperate state of Zimbabwe's economy more than the severe shortage of cash.
Banks limit how much cash can be taken out and the black market has become the main source of money for many people.
Card payments can be made, but there are extra charges and not every shop or vendor accepts cards. A mobile phone money system called EcoCash can also be used, but once again this costs more than using cash.
Zimbabweans are hoping that things will improve after elections next week. This is the first vote since Robert Mugabe was forced to resign as president last November, after 37 years in power.
Four people in the capital, Harare, have been telling me how they survive day-to-day. Two of them asked to remain anonymous.
Nurse, aged 38:
I've been working in the health profession as a nurse for nine years. We are greatly underpaid. I get $300 (£230) a month, and what makes it worse is that with the money situation in Zimbabwe you can't even access your salary when you need it – it's like working for nothing.
I have opened accounts with two banks, one has a weekly withdrawal limit of $20, the other of $40. The idea is that I use both banks at once to try and access the money I need for the week. It means spending hours in bank queues, but there's no guarantee I'll get money.
Cash crisis
Stems back to rampant inflation, which killed off the old Zimbabwean dollar in 2009
The US dollar and South African rand became the main currencies in daily use
In order to stop US dollar notes leaving the country, leading to the cash shortage, local "bond notes" were introduced in 2016
Bond notes were intended to replace dollar notes
They were meant to be pegged to the US dollar but $1 usually exchanges for between 1.20 and 1.50 bond notes
Because of a fear of inflation people do not like to hang on to bond notes for long – and prefer US dollars or EcoCash, a mobile phone payment system
Banks now only issue businesses with US dollars
10 numbers that tell the story of Zimbabwe
I am spending more time looking for cash at the moment than at work and it is affecting my job.
Sometimes I can't buy food for the house because I can't get hard cash. In those cases I have to go and negotiate with the street money changers and I lose even more money there.
I am forced to buy food in the supermarket where I can use my card but it's pricier than if I were buying from a vendor so that means less groceries in the basket and less food for my family.
I don't know if things will ever change but I know there's something wrong with being a hardworking professional and not being able to even get my salary. It's not fair and it's all I ever think about. I feel cheated.
Money changer, aged 25:
I've been working in car sales for a few years but the prices aren't certain there and sometimes the market is slow and that's what got me into money-changing. Here on the streets there is always money to be made.
People think money-changing is a lawless business, but it actually has a lot of unofficial rules.
We make our money from commission. There's a lot of competition and everyone wants to get a good deal.
Fifth Street is one of our main areas – it's more than a kilometre long. People come from all over come to see us – there's a big demand. Just on this street, there could be up to $1m between all of us.
Social media has been effective in helping us establish our own community. We've created groups on WhatsApp and Facebook where we know what the official rates for different currencies are then we work out what rates we are going to use on that day.
More on post-Mugabe Zimbabwe:
The police give us problems. They sometimes come and tell us what we're doing is not allowed, and they threaten to shut us down. But everyone has a price in Zimbabwe and you can buy your way out trouble.
The reality is that everyone is desperate for money, even the police and we are able to help with that.
There's no limit to how much money I can get for a client, unlike the banks who will say you can only access $200 per month and also don't issue dollars to private citizens unless under special circumstances.
In a good month I can make up to $400 extra money [on top of my sales job]. One of the reasons we are here is the bond notes. After the economy crashed many people here don't trust the banks.
Some of our clients are high-profile people, they come in their big cars and we do the deals inside the cars, worth thousands of dollars.
Between ourselves as money changers we also lend each other money if you have to process a big deal. It takes connections to live like this. Surviving in Zimbabwe is about a daily hustle.
I know this business won't be around forever. For tomorrow's sake, things need to change – I have younger siblings and I want them to live a differently to how we're having to live
Street vendor, Barbara Choto, 35:
I am from a village called Domboshava. I travel 20km (12 miles) everyday to come and sell vegetables in Harare. This has been my only source of income for six years now.
It's not the life I wanted for myself but there are no jobs in Zimbabwe so you take what you can get.
As prices keep on going up, I've been making less money than I used to. In the past in a good month I could make up to $150. Now most months I make just $75.
Many people don't have hard cash and so many vendors like myself have had to start using EcoCash, but EcoCash takes a portion from every transaction.
Many of my clients prefer to use EcoCash, which I am happy to accept because it at least means I can buy food for my children.
The difficultly with this is that my supplier only accepts cash, so I can't order stock unless some of my clients use cash. If not I'm forced to go to the black market and exchange some of my EcoCash money for hard money such as bond notes or dollars.
The money trading on the streets is unreliable and if you're someone like me who makes little money, the additional costs matter. Sometimes you can only get half the value of the money you put in.
I have five children to feed and I'm a single mother. Three of my children are still in school so most of the money I make goes towards them, I need them to get a good education so they're not forced to spend their days here in the street like their mother.
Job seeker, Mathias Mpangi, 32:
I have never had a job in my life and it's not because of not trying. Unemployment is high even for young people who are well educated. How much more for us?
I didn't get an opportunity to further my studies to university because I come from a poor family. I had to leave school and am willing to do any job – I survive by whatever little I get from occasional manual work.
I never know how much cash I will be able to get a day, if any. Every day for me is about survival, most days are difficult.
I am hoping that after the election big businesses will come back so Zimbabwe can get back on the right track.
The system has been broken for many years.
I know people who left Zimbabwe after losing their jobs as teachers and went and worked as gardeners in neighbouring countries so they can take care of their families.
When times get really bad for me, it's tempting to leave but I want things to change here so I'm not forced to ever separate from my children.
My babies are five years old and three years old. I would love to own my own business one day, to become someone they can be proud of.
I know over the last few months people have been talking about a new Zimbabwe but I haven't seen this new Zimbabwe. Life has been the same for me.
Growing up I never imagined that I would be unemployed at 32.