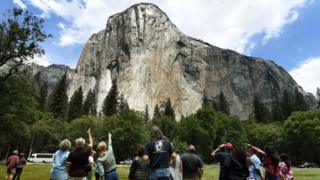 Two climbers have been killed while trying to scale the granite rock formation known as El Capitan in California's Yosemite National Park.
The US National Park Service said the two men fell to their deaths on the route known as Freeblast.
The men were named as Jason Wells, 46, of Boulder, Colorado, and 42-year-old Tim Klien of Palmdale, California.
The fatalities follow that of a hiker on the Half Dome cliffs last week, the first death in the park this year.
More than 100 climbing accidents happen in Yosemite every year. There were 16 fatalities in 2016.
Park officials said the accident happened at about 08:00 local time (15:00 GMT) on Saturday.
Rescuers and rangers attended the scene after receiving numerous emergency calls.
The incident is being investigated. No further details have been released.
El Capitan, which rises 3,000ft (914m) above the valley floor, is the world's largest granite monolith and one of the best-known landmarks in Yosemite.
It is considered a major challenge for rock climbers.
Welsh climber Andrew Foster was killed in a rock fall there in September last year.
His wife Lucy, who was badly injured in the accident, later told her family that she only survived because her husband shielded her from the rock fall.