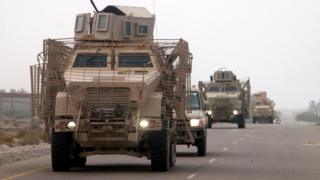 Saudi-backed forces have begun an assault on the key port of Hudaydah after Houthi rebels ignored a final deadline to withdraw, reports say.
Yemeni troops backed by a Saudi-led coalition began the operation early on Wednesday, Al-Arabiya reported.
Aid agencies have warned of a humanitarian catastrophe if the city is attacked, with up to a quarter of a million casualties possible.
The port is the main entry point for humanitarian aid into Yemen.
More than seven million people in the war-torn country are dependent on food aid.
The United Arab Emirates (UAE), part of the coalition, had earlier given rebels a final ultimatum to withdraw or face imminent attack.
UAE Junior Foreign Minister Anwar Gargash told the BBC that the coalition had run out of patience with diplomatic efforts after a previous 48-hour deadline expired.
He said the coalition wanted the UN to take control of the port but it was prepared to take military action if the Houthis refused to withdraw.
The conflict in Yemen has killed about 10,000 people over the past three years and created what the UN says is the world's worst humanitarian disaster.