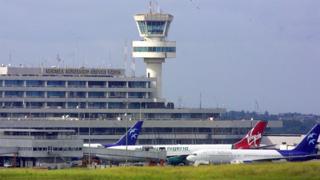 Nigerian authorities say they have rescued nine young girls and one boy who were being trafficked to Moscow.
Five suspects, including a policeman and a quarantine officer, were arrested for allegedly facilitating their travel, the government agency fighting trafficking says.
The victims were found while trying to board a plane from Lagos to Russia.
They had football supporter ID cards in order to look as though they were fans heading to the World Cup in Russia.
Five other potential victims were stopped from boarding the same Turkish Airlines flight when suspicious staff noticed they had one-way tickets.
Criminals have been pressurising young Nigerians and their parents to take advantage of the World Cup to get Russian visas, the agency says.
But it warns that, once out of the country, the victims would be exploited by the traffickers.