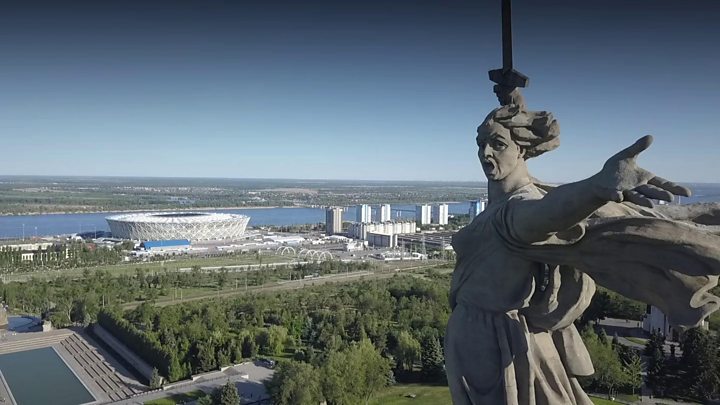 A vast statue of Mother Russia towers over the football stadium in Volgograd where England kick off their World Cup campaign on 18 June.
Sword raised in a pose of power and defiance, the figure is a monument to the brutal Battle of Stalingrad, as the city was then called. It is also a reminder of a time when Russia and Britain were allies.
But as Volgograd prepares to host crowds of England fans, that World War Two alliance is distant history.
The political hostility that exists now appears to have dampened appetite for Russia's World Cup.
There were clear signs of the new reality as city residents made their annual pilgrimage up to Volgograd's iconic war memorial to mark the anniversary of the Soviet victory over the Nazis.
One man climbing the long flight of steps wore a T-shirt depicting Mother Russia slicing the head off the US Statue of Liberty. "Welcome to Stalingrad," the slogan read.
"I'm wearing this because the West is Russia's enemy. They want to kill us all," explained Ivan, a former history teacher. "I see that they hate us, and they have done for hundreds of years."
Such hostile talk is increasingly common, fed from the top by both politicians and the state-run media machine. Both now portray the West as intent on "containing" Russia as Vladimir Putin oversees the country's "rightful" return as a global power.
The same message came from spectators at last month's Victory Day parade of soldiers and tanks through central Volgograd. "England was never our ally," a pensioner in military uniform snorted. "No-one wants a strong and powerful Russia."
Relations were far warmer in 2010 when Russia won the right to host the World Cup.
Then came the 2014 annexation of Crimea, the conflict in eastern Ukraine, Russia's military campaign in Syria and, most recently, the poisoning of former spy Sergei Skripal and his daughter using a military nerve agent.
More on the World Cup
Russia has always denied the Salisbury attack.
No member of Britain's Royal family or government minister will now attend the World Cup, a prestige event for President Putin.
In Volgograd, though, local officials insist that sport and politics should be separate.
"People here will be met with hospitality and smiles. I hope that those who pluck up the courage to come will be surprised," Mayor Andrei Kosolapov enthused, pausing beside what is being styled into the main fan-zone on the banks of the broad Volga river.
"Some people are trying to make our country look bad. But the World Cup will be a big celebration!" he insisted, in the southern sunshine.
Volgograd passes test – but fears remain
As well as more roads and a modern airport terminal, Volgograd has a smart new football stadium.
The light, airy structure stands on the embankment where some of the fiercest fighting took place during World War Two. Specialist diggers had to recover the remains of two soldiers and hundreds of shells before construction could start.
Last month's Russian Cup Final was a last dry run for the ground before England take on Tunisia here.
Outside, a military brass band puffed out cheery tunes and a giant World Cup mascot high-fived passing fans and posed for photographs.
"All people must live together," one girl said, trying out her English. "Peace, no politics. With love from Russia!"
The match was meant to test the pitch and fine-tune security measures and crowd control. But for some visitors the infrastructure is not the issue.
Few England fans have forgotten the violent clashes with Russian hooligans at the Euro 2016. Online chatter at the time made clear that many were wary of a repeat performance at the World Cup.
"If they behave everything will be fine," laughed Russian fan Roman, referring to England supporters.
With him behind the goal were dozens of muscular, tattooed and mostly young men. The flags of their various fan clubs were draped over the barriers and they chanted and sang furiously throughout the match.
Russia has invested heavily in this tournament, though, and does not want violence to tarnish its global grandstanding.
Roman admitted that he and other hard-core supporters had been called in by police and issued an official warning to behave.
But he had his own words of caution.
"Our lads are athletic, they're fit and they know what they're doing. So if England dare to take us on, on our home turf, that won't go unanswered," he vowed.
"I know it's the World Cup and everything," he added. "But there has to be mutual respect."
Russia is hoping that all hostile talk will be sidelined when the football starts. It is promising a party.
But politics will hang over this World Cup even as England play beneath the giant figure of Mother Russia: a potent symbol of the days when Britain and Russia were united.