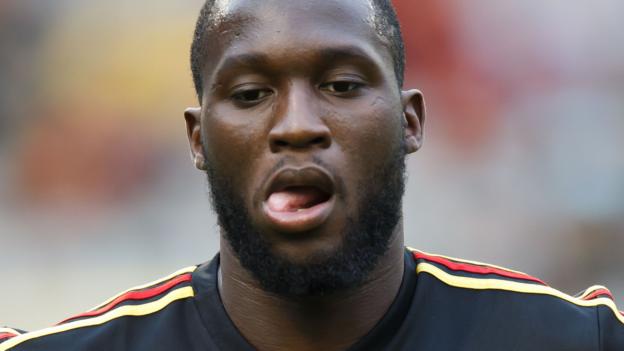 2018 Fifa World Cup on the BBC
Host: Russia Dates: 14 June – 15 July
Live: Coverage across BBC TV, BBC Radio and BBC Sport website with further coverage on Red Button, Connected TVs and mobile app.
Belgium striker Romelu Lukaku will "remember to have fun" at the World Cup, despite claiming "some people in my own country want to see me fail".
The 25-year-old Manchester United forward is expected to start against Panama in Sochi on Monday (16:00 BST).
But he feels many Belgium supporters do not appreciate him and are unaware of his poverty-hit childhood.
"If you weren't with me when I had nothing, then you can't really understand me," he said.
"When I went to Chelsea and I wasn't playing, I heard them laughing at me. When I got loaned out to West Brom, I heard them laughing at me.
"But it's cool. Those people weren't with me when we were pouring water in our cereal."
Lukaku has written about his childhood, and struggles to support his family by becoming a professional footballer, for the Players' Tribune.
He recalls making his debut for hometown club Anderlecht after a prolific spell in schoolboy football which was marred by moments of prejudice.
"When I was 11 years old, I was playing for the Lierse youth team, and one of the parents from the other team literally tried to stop me from going on the pitch," he said. "He was like, 'How old is this kid? Where is his ID? Where is he from?'
And he remembers how, after becoming a star name, newspapers "were calling me Romelu Lukaku, the Belgian striker" but when his form dipped "they were calling me Romelu Lukaku, the Belgian striker of Congolese descent".
Lukaku, who joined Manchester United from Everton for an initial £75m fee last summer, scored 27 goals in his debut season at Old Trafford.
This will be his second World Cup, having scored twice for Belgium in the 2014 tournament.
He is joined in Roberto Martinez's squad by his 23-year-old brother Jordan, who plays for Lazio.
"Two kids from the same house, the same situation, who made it out," he said.
"I'm going to remember to have fun this time. Life is too short for the stress and the drama."
'I played with anger because of the rats in our apartment'
Lukaku emphasises his pride at representing his country, despite the critics, and his ambition to become a legend.
"If you don't like the way I play, that's fine," he said. "But I was born here. I grew up in Antwerp, and Liege and Brussels.
"I wanted to be the best footballer in Belgian history. That was my goal. Not good. Not great. The best.
"I played with so much anger, because of a lot of things. Because the rats running around in our apartment. Because I couldn't watch the Champions League.
"Because of how the other parents used to look at me."
'Thierry tells me how to run into space'
Lukaku also writes about his delight at being coached by former Arsenal striker Thierry Henry, one of Martinez's assistants.
"When we were kids, we couldn't even afford to watch Thierry Henry on Match of the Day," he said. "Now we're learning from him every day with the national team.
"I'm standing with the legend, in the flesh, and he's telling me all about how to run into space like he used to do."