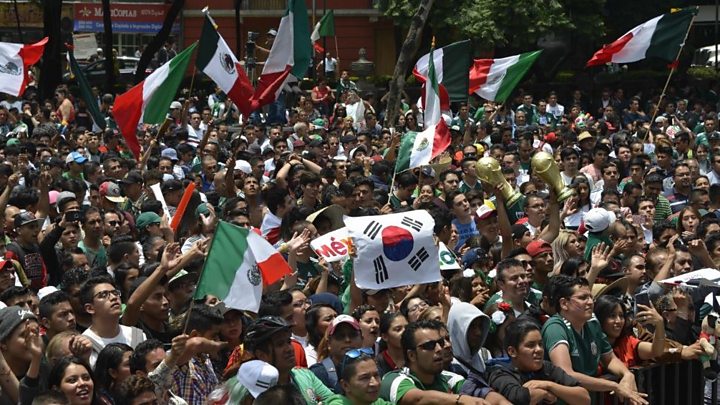 Mexican football fans have been wildly cheering another team – South Korea.
The Asian side's 2-0 victory over 2014 winners Germany on Wednesday – a major upset secured in stoppage time – ensured Mexico progress to the knockout stage of the World Cup despite being thrashed by Sweden in their final group game.
Large crowds celebrated Mexico's progression at the South Korean embassy in Mexico City, chanting that Koreans were their "brothers".
Images of hybrid South Korea-Mexico flags, tweeted statements of friendship and gratitude, and even vows from fans to begin listening to K-Pop were posted online by droves of Mexico supporters.
"Thank you Korea. I don't even know quite where it is, but thank you, thank you," Cecilia Gonzalez, a 22-year-old student told the AFP news agency at a bar in Mexico City.
At a World Cup fan park in Russia, Sweden and Mexico supporters celebrated their teams progression by chanting "Goodbye Germany" in unison.
Mexico fans have largely brushed over their side's 3-0 defeat to Sweden in their final group game, which sets them up for a meeting with five-time champions Brazil in the next round.
An image of Mexico's green, white and red standard emblazoned with the South Korean flag is also proving popular on Twitter.
One South Korean tourist was even swept up in the celebrations in Mexico City's Zócalo plaza.
"A friend of the people!" the tweet reads, as Mexico supporters are shown lifting the man onto their shoulders.
But despite all the fanfare and their shock defeat of defending world champions Germany, South Korea will not progress.
At least their fans will leave Russia with plenty of new friends.