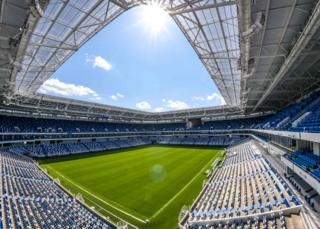 For European football fans wary of Russia, a World Cup match just 50km (31 miles) across the border from the EU could be just the ticket.
The westernmost host city for the tournament, Kaliningrad is a Russian exclave squeezed between Lithuania and Poland. As six of the eight teams playing there are from Europe, many visiting fans could bypass Moscow altogether.
One popular route for England supporters is likely to involve a budget flight to Gdansk and a short hop into Russia by bus.
Previously known as Königsberg, Kaliningrad was German territory for centuries before World War Two. Residents say that past, and their region's position, give the place a unique character.
"The mentality in Kaliningrad is different to the rest of Russia. People are more smiley, open and friendly here," claims the director of the city's airport, Alexander Korytny.
"Citizens of Kaliningrad are very mobile," he adds, and more likely to travel west for the weekend than to Moscow.
Fixtures in Kaliningrad:
16 June – Croatia v Nigeria (Group D)
22 June – Serbia v Switzerland (Group E)
25 June – Spain v Morocco (Group B)
28 June – England v Belgium (Group G)
Despite the possible land route for fans via Poland, Kaliningrad's Khrabrovo airport is expecting more than double its usual traffic during the football tournament.
With direct charter flights requested for fans, as well as extra flights from Moscow and new connections to other host cities, the airport's long-delayed expansion was finally fast-tracked.
"Before, it was very slow progress," Mr Korytny admits. "So we're very glad for the World Cup."
Putin's showpiece spectacle
Inside the terminal building, teams are hastily hammering together new shops and stringing welcome banners from the roof.
Among the football souvenirs there is a stall displaying a portrait of President Vladimir Putin. It's crafted from amber, mined locally. The picture is a giant orange reminder of the political tensions that have put some foreign fans off this World Cup.
"There's a lot of [England] fans sharing their fears, obviously. The main thing is the political events of the past few months," England supporter Greg Lymar admits.
He describes a negative mood about Russia in blogs and online forums.
"I think it's the Euros too, the hooligan violence, that's deterred people," Greg adds, recalling clashes with Russian fans in France in 2016.
"It doesn't faze me one bit though," he says, displaying his Russia 2018 T-shirt on a video call from the UK. "I think the World Cup will be great."
Russian fan of Newcastle
Greg has good reason to be positive. When he travels to see England play Belgium in Kaliningrad later this month, a local football fan has invited him, his brother and a friend to stay – for free.
"I don't know them at all, but I think we'll easily find a common language," Nikolai Domanitsky laughs, in a flat with a red British phone box painted on the wall.
There is a British-themed doormat and a London lampshade. Even Nikolai's shower curtain is decorated with the Union flag.
He is a big fan of English football too; he has followed Newcastle United ever since he first saw Alan Shearer on TV in the 1990s.
He chose Greg as a guest because he and his brother are also Newcastle fans.
"They said they'd bring me a scarf!"
World Cup makeover
Königsberg was heavily bombed by the British in World War Two but some older Germanic architecture has survived in modern-day Kaliningrad, amid the concrete housing blocks flung up in the post-war USSR.
There are even traces of the city's past at the local football club.
The grand entrance arch to Baltika FC is made of columns taken from a German church that was almost totally flattened during the air raids.
The club expects to inherit Kaliningrad's World Cup stadium after the tournament.
Last week, President Putin urged regional leaders not to let the expensive new stadia turn into "flea markets", as happened to other venues in the economic crisis of the 1990s.
The Baltika stadium was one of them.
European cars were lined up for sale round the football pitch: they were cheaper in Kaliningrad, and people travelled from all over Russia to buy them.
The cars only vanished when Baltika got promoted.
These days, the second-division side pulls in just a few thousand loyal fans. So the club hopes moving to a smart new home will attract big crowds and a major sponsor, and propel Baltika back to the top league.
At a recent away game, just one hardy supporter showed up.
"It's not like England, where you can just drive to a game," a team spokesman points out. The team have to fly longer than 12 hours to reach their farthest fixture, in Vladivostok.
Greg and his friends will have a far easier journey to the England match, with a flight to Gdansk then a bus.
From Nikolai's home, the World Cup stadium is a short walk away, across the river.
The flat itself might be a little cramped, but Nikolai doesn't think his guests will be too worried.
"I want to show them my city," he says. "They're only here for one night, they can catch up on their sleep on the plane!"