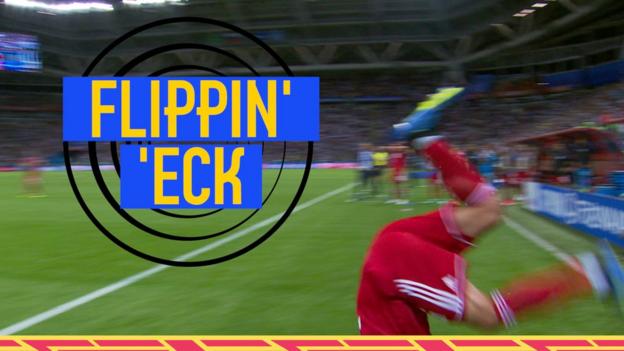 It is the moment everyone is talking about in Spain's 1-0 World Cup win over Iran.
No, not Diego Costa's winning goal, deflecting into the net after a defender tried clearing the ball, or Saeid Ezatolahi's goal being ruled out for offside.
Instead, it is Iran defender Milad Mohammadi's bizarre throw-in attempt, which caused hysterics in the commentary box and on social media.
Deep into stoppage time and with his side needing a goal to claim a famous draw against 2010 world champions Spain, Mohammadi picked up the ball after it had gone out of play.
He stepped back with intent, kissed the ball and launched into a forward roll but did not release the ball. He then took a few steps back and settled for a more conventional throw-in.
This is how the moment was described on BBC Radio 5 live:
Chris Sutton: "This is it, this is the chance for Iran."
Alistair Bruce-Ball: "30 seconds left for Iran. It's Milad Mohammadi to take this long throw. One, two, three, four, five, six Iranian red shirts in the box."
Sutton: "Get the goalie up."
Bruce-Ball: "Mohammadi kisses the ball and points to the sky. Oh, it's a somersault. Oh, what's he doing?"
Sutton: *laughs*
Bruce-Ball: "He's somersaulted over the ball and he's about to launch it."
Sutton: "He pulled out!"
Bruce-Ball: "He was about to launch it and the ref said no – and now he's gone short – he's thrown it short."
The social media reaction
Tim Brocken: Can't get over that Iran throw-in, in the last minute, comedy gold.
Pride falls: And that last-minute throw-in just ruined all the good things Iran did tonight.
Chris Fox: Ronaldo's hat-trick and Kane's last-minute winner have just been overshadowed by the Iran throw-in as the moment of World Cup so far.
CJ: That Iran throw-in will go down in history. Incredible scenes.