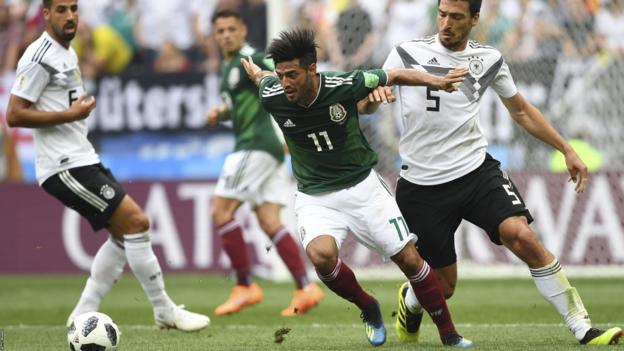 Fifa is investigating alleged homophobic chants by Mexico fans during the 1-0 World Cup win over defending champions Germany on Sunday.
Sunday's chants were allegedly directed at Germany goalkeeper Manuel Neuer at the Luzhniki Stadium in Moscow.
The Mexican Football Federation (FMF) was fined nine times for supporters' homophobic chanting during the qualifying campaign.
It has repeatedly asked fans to refrain from using the slurs.
Javier Ruiz Galindo, head of the National House of Mexico for fans in Moscow, said the chant could be perceived in "many ways".
"It's not necessarily meant to insult somebody," he said, but added: "We have been asked many times not to do it so we should be respectful."
In November, the FMF won an appeal against two Fifa fines for the chant – which features the Spanish word for a male prostitute – but were warned "harsher sanctions" would be imposed if it was repeated.