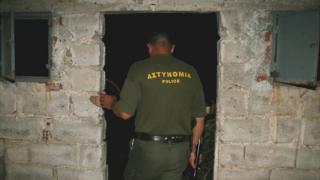 Greek police are investigating the murders of three women who were found with multiple knife wounds by the river Evros – an area used for illegal migrant crossings from Turkey.
Two of the women were teenagers and reports say they had been tied up.
The victims are of Asian origin, the Greek daily Kathimerini says, and are believed to be closely related.
A local mayor said his community was shocked by the brutality. The victims' throats had been cut, he added.
One theory is that the women had got into an argument with a people-smuggler. The Greek website News 24/7 says robbery was apparently not the motive, as one victim was found wearing gold jewellery.
The estimated ages of the victims are: 15 to 20, 18 to 25 and 20 to 30. Two knives were found at the scene.
According to police data, more than 8,400 migrants and asylum seekers were intercepted in the Evros area in the first half of this year.
Since 2015 the flow of irregular migrants into Greece has fallen dramatically, after the EU and Turkey signed an agreement to send back to Turkey migrants who do not apply for asylum, or whose claim was rejected.