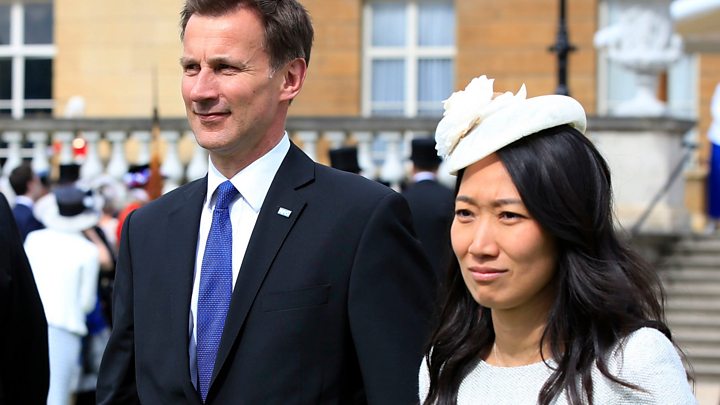 The UK's new Foreign Secretary Jeremy Hunt is on an official visit to China – but an embarrassing gaffe is stealing the headlines instead.
Mr Hunt tried to get into his host's good books by mentioning that his wife is Chinese – but called her "Japanese" instead.
He quickly corrected himself and those at the meeting laughed it off.
But the gaffe is making headlines and, as Mr Hunt himself says, it's a "terrible mistake to make".
Lucia Guo was born in Xian in central China. She and Mr Hunt met in 2008, when she was working at Warwick University. They have three children.
What exactly did he say?
Mr Hunt was at a meeting with Chinese Foreign Minister Wang Yi, when he said, in English: "My wife is Japanese – my wife is Chinese. Sorry, that's a terrible mistake to make."
He explained that he and Mr Wang "spoke in Japanese at the state banquet", before going on to say: "My wife is Chinese and my children are half-Chinese and so we have Chinese grandparents who live in Xian and strong family connections in China."
So why was this such a gaffe?
1. China and Japan are bitter rivals
Confusing China with any other country is bad if you're trying to curry favour with the Chinese government.
But of all the countries to get confused with, Japan is probably the worst one.
That's because the two countries have had a particularly bitter relationship for decades. They fought each other in two Sino-Japanese wars, and are also in a dispute over territory in the East China Sea.
Among China's older generation, there are plenty of people who are reluctant to buy Japanese products or go to Japan on holiday – because they accuse Japan of playing down its wartime atrocities.
And there were several anti-Japanese protests across China in 2012, when tensions over the disputed islands flared up.
2. He was talking about his own wife
It's easy for anyone to make a slip of the tongue, or get confused about someone's race.
Mr Hunt speaks Japanese and worked in Japan – and says he spoke with Mr Wang in Japanese – which might explain why it was on his mind at the meeting.
But even then, it's awkward explaining why "Japanese" slipped out at a conference with Chinese officials – especially since he was talking about his own wife.
Speaking of which…
3. It fits a bad stereotype
There's a common joke that East Asians "all look the same" – and many East Asians have complained that people make lazy assumptions about what race they are.
For example, I've had people yell "Konnichiwa" (a Japanese greeting) at me even though I'm ethnic Chinese, while my British Japanese friend has faced several "Ni Haos" (hello in Chinese) from strangers.
Most East Asians I know would agree that it's not the worst mistake someone could make – but it's still pretty annoying.
Mr Hunt's gaffe may have been an innocent slip of the tongue – but it's a pretty unfortunate mistake to have made in this context.
And, more importantly for Mr Hunt – it's not going to impress his hosts, which was the whole point of him mentioning his wife in the first place.
4. Would it have worked anyway?
Given China's rising status as a world power, and the clout of its consumers, lots of politicians and businesses have been trying to endear themselves to the Chinese.
But it's easier said than done.
Both Facebook founder Mark Zuckerberg and French President Emmanuel Macron have tried to impress Chinese audiences by speaking Mandarin – to mixed reviews.
And having Chinese family ties doesn't necessarily mean smooth sailing with China either.
For example, Gary Locke served as the US ambassador to China from 2011 to 2013, and made headlines for being the first Chinese-American in the role.
But he still faced criticism from Chinese media, especially when ties were strained – such as when the US embassy in Beijing gave refuge to Chinese dissident Chen Guangcheng.
State newspaper The Global Times made the point of reminding the public that Mr Locke was just a "normal" US politician serving Washington's interests, despite his Chinese ethnicity.