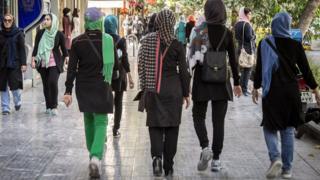 The taboo issue of sexual abuse in Iran has reignited after allegations that a string of indecent activities involving more than a dozen students were carried out by an adult at an all-boys high school in Tehran.
The suspect is said to have plied the students with alcohol, showed them pornographic videos and forced them to engage in sex acts.
In the wake of this case and previous similar incidents, Iranians have taken to social media using the global hashtag #MeToo, sharing stories of their own experiences – and confessions.
An the difference this time is that, in an unusual step, Iran's Supreme Leader Ayatollah Ali Khamenei has personally asked for the perpetrator to be punished.
Some believe his reaction stems from a previous case that caused public anger. Last year a prominent Koran recital teacher with close ties to the supreme leader was accused of sexually abusing children in his classes – something he strongly denied.
In January this year, the teacher was cleared without charge and the case was closed. But the verdict caused outrage in some quarters, with one Iranian MP claiming it was the result of interventions by the supreme leader's aides.
#MosqueMeToo
This is not the first time Iranians have used the MeToo hashtag. It was adopted by Iranian social media users when the Harvey Weinstein story broke, and another version of the hashtag, called #MosqueMeToo, was also used to raise awareness about sexual harassment at Islamic holy sights and the annual Hajj pilgrimage.
One male user has tweeted: "I was in middle school when our headmaster took me to his home and abused me, I was afraid of telling my father, I was also abused by our neighbour in his car once. I now realise the pain I endured."
One tweeter (Sotvan_d) used the hashtag to confess to inappropriately touching a girl when he was a teenager and to apologise for what he did.
Eli, on Twitter, said she was regularly abused between the ages of seven and 16 by someone close to her parents but she never had the courage to tell anyone because she believed it was her own fault.
She says she now regularly talks to her child and lets her know that if such a thing happens it is never her fault and that she must let her parents know.
A row over sex education
The abuse cases have sparked a debate among Iranians, many of whom are blaming social conservatism and the failure of the state to raise awareness about healthy sexual behaviour.
Sex education in Iran is not part of the school curriculum and is only available as an option for the first time at university – long after many young people become sexually active, despite strict laws against sex outside marriage.
Almost a year ago Ayatollah Khamenei ordered officials in Iran's education system to reject UN guidelines that urge countries to include sexuality education in their school curriculum by appropriating it to their own culture.
He said the guidelines were an attempt to "Westernise" the country, encouraged indecency and threatened Islamic values.
However, in recent days many Iranians on social media have criticised the ayatollah's decision, claiming it will lead to more cases of child sexual abuse.