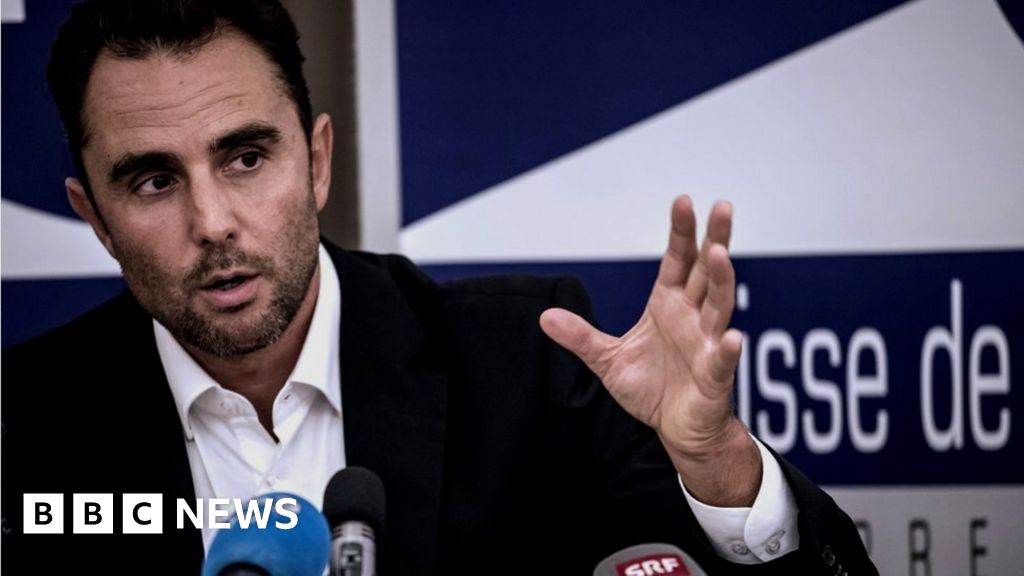 Hervé Falciani's life in Spain is far from normal.
A fugitive from Swiss justice since 2009, this former HSBC computer systems analyst turned anti-fraud activist is constantly on the move. He has faced threats to his life considered credible enough by Spanish authorities to provide him with bodyguards.
Even so, it came as a shock when Falciani was arrested on 4 April on the basis of an old Swiss extradition request. The hall at Comillas University in Madrid was packed with people waiting to hear him take part in a discussion on tax evasion entitled "When telling the truth is heroic".
His first thought when he saw police officers approach him at the lecture theatre door was that Spanish authorities were in urgent need of his services, according to his legal team. This whistleblower has co-operated with Spain's government on a regular basis, since a Spanish court first refused to extradite him to Switzerland in 2013.
"He has an almost permanent position in Spain's tax office," Juan Barallat, his defence lawyer in the extradition case, told the BBC.
What did Falciani do?
It was in 2009 that the Monaco-born IT expert fled Geneva to France, accused of stealing secret bank files from HSBC Private Bank (Suisse).
His "Swiss Leaks" data had revealed accounts held by more than 100,000 wealthy individuals and legal entities.
For the Swiss he was an internationally wanted person in 2009.
But he co-operated with French authorities in their hunt for wealthy tax evaders and last year HSBC reached a deal with France over a long-running tax evasion inquiry. Austria, Belgium and Argentina launched their own investigations and Spain too was able to recover around €300m (£265m; $360m) in unpaid tax, thanks to the files Falciani extracted from the HSBC subsidiary's database.
When he was arrested in Barcelona in 2012, the Swiss extradition request was turned down as Spain's High Court said the accusations were not offences in Spain.
In 2015 Falciani was sentenced to five years in absentia in Switzerland for industrial espionage.
Why has his extradition case returned?
Nothing changed regarding Falciani's situation in Spain. He became part of the fabric of political life, standing as a candidate in elections for the anti-corruption X Party and supporting whistleblowing activism platforms.
So why did Spain decide to arrest him for a second time on 4 April, since the latest move did not come from the Swiss?
When asked by the BBC, a spokesman at Switzerland's Federal Office of Justice said that an updated request for Falciani's extradition had been sent on 5 April after his arrest in Madrid.
And another Swiss justice spokesman revealed that Spain had contacted them as early as March before the surprise arrest.
Is there a Catalan connection?
The idea that Spain has seemingly taken it upon itself to reopen the Falciani file has raised eyebrows among his supporters, and heightened suspicions of a possible Spanish attempt to trade high-profile fugitives with Switzerland.
Two leading Catalan pro-independence politicians, Marta Rovira and Ana Gabriel, fled from Spain to Switzerland earlier this year after being targeted by a criminal investigation into Catalonia's illegal declaration of independence last autumn. A supreme court judge in Madrid has filed a European Arrest Warrant for Ms Rovira while reportedly continuing to consider Ms Gabriel's position.
"It's disloyal on Spain's part," Falciani's fellow X Party activist, Simona Levi, said of his arrest. "It is treating justice as merchandise merely for short-term political benefits."
And his lawyer, Juan Barallat, is wary of the government's motives: "My client trusts the Spanish judiciary, but not the Spanish state. Extraditions are part diplomacy, part legal process."
But Spain's justice minister has denied government involvement in Falciani's arrest or any connection with the Catalan situation. "These are judicial cases sought in the realm of international co-operation," Rafael Catalá said last month. "We shouldn't see into it more than that."
Double jeopardy
Mr Barallat says his client still has confidence in the Spanish judiciary, although he sees government influence in the aggressive attitude of state prosecutors, who asked for Falciani to be remanded in custody after his arrest.
"At first, he was frightened and did not understand why he was being arrested but he was released and now only has to report to the police on a weekly basis," says the lawyer.
A further extradition hearing is expected in the next three months.
"A fundamental rule of law is that someone cannot be judged twice for the same offence," says Mr Ballarat. "This case has already been cleared up in Spain."