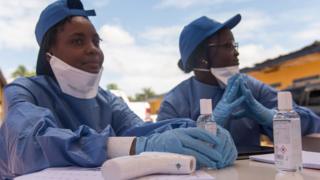 Despite its vast size and dilapidated health system, the Democratic Republic of Congo is confident that it will be able to contain the current outbreak of the deadly Ebola disease, which is thought to have killed 27 people.
There has been one case in Mbandaka, a densely populated city of one million. This has led to fears the disease could spread rapidly through the city, as happened in West Africa four years ago, causing more than 11,000 deaths.
Dr Jean-Jacques Muyembe was among the researchers who first identified Ebola in 1976 in DR Congo, and has been on the teams that have responded to each of the eight subsequent outbreaks in the country. The disease was even named after one of DR Congo's many rivers.
"I am confident because I think we have very good experience of this disease and we'll stop this outbreak as soon as possible," he told the BBC.
All previous outbreaks in DR Congo have been relatively small. The biggest one so far, in 1976, had 318 reported cases and 280 deaths, according to the World Health Organization (WHO).
'They have a plan'
"We have some experience of managing this kind of an outbreak in a city. I don't think we'll have the kind of situation witnessed in West Africa in 2014," said Dr Muyembe, head of the National Institute for Biomedical Research in DR Congo.
That level of experience has come in handy each time there is an outbreak.
"We were very positively surprised that in most of the areas we visited – they have a response plan and a response team in place," said Dr Michel Yao, the WHO-appointed Incident Manager and Head of Emergencies in the Africa region.
He said the response teams in the country know what to do and can swing into action as soon as Ebola re-emerges.
The current outbreak was declared on 8 May in Bikoro, a small rural town north of the capital, Kinshasa.
Response teams from the government and international organisations moved quickly to the affected areas. But the efforts have been hampered by transport challenges.
"What needs to be provided is mainly logistics support to enable them to reach the areas and the population that is at a high risk," said Dr Yao.
'We cut grass so helicopters can land'
DR Congo is a vast country which is roughly the size of Western Europe, with dense forest cover and few passable roads, especially in rural areas.
The international organisations responding to the outbreak – WHO and Médicins Sans Frontières, among others – created an air bridge to help move health workers and medical supplies to the affected areas.
But even helicopters have been difficult to land in remote places like Iboko, the latest area to report cases of Ebola. There are no roads that lead to the area.
"We send people on the ground to cut grass so that helicopters can land," said Dr Yao.
This remoteness may have played a role in minimizing the spread of previous outbreaks.
Read more:
Without public transport, the number of people one comes into contact with is greatly reduced.
The smaller populations in the villages have also meant that isolating patients and tracing their contacts is less complicated compared to a large city.
"In these places, it's easier to reach all of the people affected," said Dr Yao.
'Game-changer'
When the first case was confirmed in Mbandaka on 17 May, the alarm was raised.
The city of more than one million people is a busy transport hub by the River Congo. There is frequent travel between it and the capital Kinshasa, as well as Brazzaville in neighbouring Congo.
"This is a major, major game-changer," announced Peter Salama, WHO's Deputy Director General of Emergency Preparedness and Response. He said the number of people a person with Ebola can come into contact with in an urban area is amplified.
The isolation units and treatment centres now being used are a fairly recent strategy in Ebola control, used since the outbreak in West Africa. Previously patients were isolated but within hospital facilities. The specialised tents were not available.
In Mbandaka, MSF has set up treatment centres but a major breach occurred on Monday when relatives of three patients took them away "for prayers" in a local church.
What is being done to halt Ebola
A vaccination campaign has also been launched in the city and it is hoped this will help halt the spread of the disease.
Other strategies include public health messages through radio, schools, churches and word of mouth, educating people about Ebola and how to prevent it.
Most deadly Ebola outbreaks:
11,308 deaths in Guinea, Liberia, Sierra Leone, 2014-6
280 deaths in DR Congo, 1976
254 deaths in DR Congo, 1995
224 deaths in Uganda, 2000
187 deaths in DR Congo, 2007
Source: WHO
Unicef has installed hand-washing units in more than 50 schools. The UN peacekeeping mission, known as Monusco, has also been roped in – even though it is in the country for a different mission – to stabilise the security in the troubled east.
The peacekeepers are helping provide a lot of air transport to affected areas.
Acting fast to control an outbreak of Ebola has proved to be very important in halting its spread.
And DR Congo has shown that it is possible to tackle Ebola even in a country with inadequate hospitals, most of which lack proper equipment and enough staff. Seven out of every 10 Congolese have little or no access to health care.
But the outbreak in Mbandaka is not the first in an urban area for the country.
"In Kikwit it was also an outbreak in an urban area, less than 500km from Kinshasa," recalled Health Minister Oly Illunga Kalenga.
Dr Muyembe remembers the incident in 1995: "One of our patients escaped from Kikwit and came to Kinshasa. He was received at the hospital and we did not have another case of Ebola."
In 1976, he also flew with a nurse who had high fever from Yambuku – the affected area – to the capital.
"She died and infected two other nurses," Dr Muyembe said.
There were no other cases. Given such a history, Dr Muyembe and the health minister have no doubts that the country has what it takes to stop an outbreak of Ebola.
Dr Yao of WHO sums it up: "They know what to do."