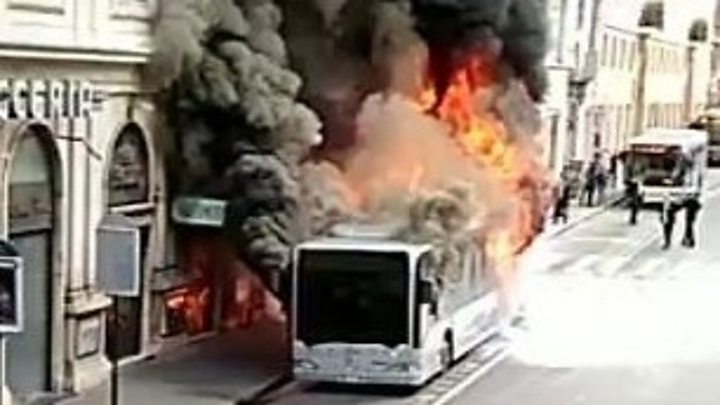 A public bus engulfed in flames in a European capital city – but no one in Rome thought to blame terrorism.
Instead they wearily pointed the finger at the city's beleaguered transport authority, Atac.
The blaze on the number 63 bus, which happened on the busy Via del Tritone shopping street in the city centre on Tuesday, was the ninth this year and follows 22 more last year.
So frequent have the fireballs become that they have their own social media hashtag #flambus (which rhymes with Trambus, Atac's previous name).
"Only in Rome does a bus explode in the heart of the city and people immediately blame Atac, with no thought of terrorism. It says a lot about our emergencies," said journalist Raffaella Menichini on social media.
Atac blamed an ageing fleet and said the number of incidents was down on last year.
How dangerous are the fires?
In its statement, Atac said no passengers had been hurt. But local media reported that a shop assistant working in a store near where the bus caught fire had been taken to hospital suffering from a burn to the arm and shock.
No passengers have been hurt in previous fires either, local reports say. But observers fear that it is only a matter of time before there are victims.
"Every day there is greater risk," wrote transport consultant Fabio Rosati, adding that an "urgent plan" to replace buses was needed.
Journalist Michele Galvani accused the city authorities of "playing with citizens' lives".
"Today could have been a massacre. In which other European capital do buses explode like this? These jokers play with citizens' lives and continue to make announcements," he said.
In March after the year's fifth bus fire, union officials warned of the risks to travellers.
"Atac services are unsafe. Drivers just have to pray that nothing happens and we don't want to think about what could happen when the hot weather comes because if we wait for this authority to solve the problem then we're in trouble. Or indeed, incinerated," the Faisa Confail union's regional secretary Claudio De Francesco told Roma Today.
What is wrong with the buses?
The transport authority said the Mercedes Citaro bus that caught fire in Via del Tritone dated from 2003 and said its fleet "unfortunately has a very high average age".
Preliminary investigations say the bus suffered a short circuit before the blaze broke out, La Repubblica reported.
The fire began at the back of the bus and the bus driver quickly evacuated passengers before the flames spread, the newspaper said.
Video posted on social media appeared to show smoke pouring out of the back of the bus before an explosion accompanied by a loud bang that scattered onlookers.
Initial attempts to put the fire out with fire extinguishers failed but firefighters were on the scene shortly afterwards.
Drivers' unions say the buses suffer from a lack of maintenance. A series of internal investigations have failed to stop the fires.
Last month a bus that was just five years old caught fire, The Local reported.
What is being done?
Atac insists that it has increased fire-prevention measures and says that these have reduced fires by a quarter this year.
That is not enough for some, however. Carlo Rienzi from the consumer rights group Codacons said the "umpteenth" fire had prompted his organisation to demand that the public prosecutor take buses out of circulation if safety cannot be guaranteed.
"We can no longer be silent about what seems to all intents and purposes an emergency," Codacons said in a statement.
Some on social media have blamed the administration of Mayor Virginia Raggi.
She is from the populist Five Star Movement and won power in 2016 promising to improve the city's notorious transport, water and rubbish services, which have long been plagued by corruption and a lack of investment.
Rome newspaper Diario Romano said Ms Raggi had not got to grips with the city's transport problems and accused her of "two years of failure".
One left-wing activist even compared her leadership to that of Emperor Nero from classical Rome, who is popularly said to have played the fiddle as fire devastated the city in the year 64.
"Not even Nero did what Raggi is doing," the activist said on social media.