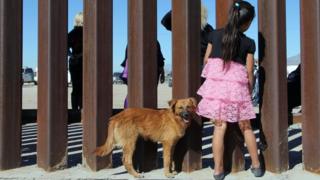 President Donald Trump recently ended a practice that separated children from families illegally crossing the border. But more generally, what effects have his policies had on illegal immigration in the United States?
"We're going to build the wall. We have no choice." Then-candidate Donald Trump promised at a rally in California that, as president, he would crack down on illegal migrants in the US. The crowd chanted in response: "Build that wall! Build that wall!"
Sixteen months into his presidency, Mr Trump maintains that constructing a wall on the US-Mexico border and "the swift removal" of unlawful entrants will protect the safety and prosperity of Americans.
What's happened to border crossings?
Changes under the Trump administration include expediting the process to determine eligibility to remain, promptly removing those who are denied, and criminally prosecuting migrants for first-time border offences, which were previously treated as a civil violation.
Between 5 May and 9 June, 2,342 children were taken from their parents and held in separate government centres, according to the Department of Homeland Security.
On 20 June, Mr Trump reversed the order to separate families. That same day, officials said those children already taken would not be immediately reunited with their families, but the situation is evolving.
Mr Trump's executive order still allows for long-term detention of immigrant children (albeit with their parents), which does violate federal law that limits child detention to 20 days.
In Mr Trump's first year in office in 2017, arrests of migrants illegally crossing the US-Mexico border were down at 303,916, compared with 408,870 in President Barack Obama's last year. While illegal crossings cannot be accurately counted, border arrests are used as a measure of illegal border crossings.
There were also about 3,027 illegal apprehensions from along the Canadian border and 3,588 from the coastal border.
These numbers include asylum seekers (a person who applies for refugee status at a US port of entry or from within the country). The most recent report, 2016, shows a total of 115,399 applied and 20,455 individuals were granted asylum to stay in the United States.
However, since February 2018, the number of migrants crossing the border illegally was up, with arrests last month more than double those in May 2017.
A US Customs and Border Protection report credits any changes to the president's policies to improved border security.
And while cross-border migrants often make headlines, the largest number of illegal migrants settling in the US each year are the people who stay in the country after their visas expire.
According to the most recent reports by the Department of Homeland Security and the Center for Migration Studies, the number who overstayed their visas has outnumbered those who crossed the border illegally every year since 2007. Canadians make up the largest group of these illegal migrants.
In 2016, there were a total of 739,478 overstays, compared to 563,204 illegal border crossings.
Deportations
At his first town hall meeting, then-candidate Mr Trump said "If I win … day one of my presidency, they're getting out and getting out fast", referring to illegal migrants in the United States. There are an estimated 11 million undocumented individuals living in the country.
Arrests of illegal migrants inside the US (not border arrests) are up 42% since Mr Trump took office, compared with the previous year, according to US Immigration and Customs Enforcement (ICE).
This included an increase of individuals with no criminal convictions. Those arrested are then processed through the immigration court system.
Like arrests, the number of people deported from the interior of the country was also up, not including arrests or removals at the border. In Mr Trump's first year – 2016-17 – 81,603 people were removed from the interior, compared to 65,332 the year before.
'Build that wall'
The US-Mexico border is 1,954 miles (3,145 km) long, with 654 miles of various types of fencing going through California, Arizona, New Mexico and Texas.
Almost the rest of the unbarred border along Texas is marked by 1,240 miles of the Rio Grande.
Citing security concerns, Customs and Border Protection does not publish where the physical border exists, and will only confirm that two replacement projects are under construction.
During his campaign, Mr Trump promised to build a wall across the entire border, and, as president, he invited the media to see eight 30-foot prototypes.
In January, he asked Congress to pay $18bn (£13.6bn) over the next decade for an initial phase of construction, but the bill ultimately failed. Estimates are that a cross-border wall would cost anywhere from $12-40bn.
On 23 March, Mr Trump signed a bill that included $1.6bn for projects at the border, but the bill stipulates that the funds cannot be used towards a wall. Instead, the funds are going on projects improving and replacing existing fences.
'Change the law'
On Thursday, the US House of Representatives voted down one immigration bill that was meant to increase border security, and postponed the vote on a second – "compromise" bill – until next week.
The president had said he would sign the bill if it was approved by Congress, but on Friday, he tweeted that "Republicans should stop wasting their time on Immigration [legislation]" until after the next election.
The "compromise" immigration bill, as it is called, would cut down legal immigration, lower eligibility for asylum, and offer conditional legal status to Dreamers – young undocumented immigrants who grew up in the US. The bill would also commit $25bn in the future to build the wall along the southwest border.
It Is not certain the bill has the votes to pass in the House of Representatives, and it faces even longer odds in the narrowly-divided Senate.