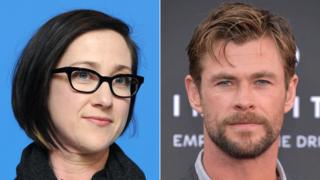 SJ Clarkson is about to be catapulted into the big league if she becomes director of the next Star Trek film.
The TV director is hotly tipped for the job by industry insiders including trade magazine Variety.
And it's already causing excitement among fans and film buffs, as Clarkson would be the first woman to direct a Star Trek movie.
Paramount announced on Thursday at CinemaCon in Las Vegas it was working on two new Star Trek films.
Chris Hemsworth is confirmed to be returning to the franchise for the next film. The actor starred as Chris Pine's father in 2009's Star Trek.
And SJ Clarkson could be the woman overseeing the Kirk family reunion.
Clarkson has so far built up an impressive body of work in TV, including shows such as Dexter, Bates Motel, Heroes, Orange is the New Black and Life on Mars.
She co-created BBC hit Mistresses and also directed recent BBC drama Collateral, written by David Hare and starring Carey Mulligan.
She was also behind the camera for episodes one and two of Marvel's The Defenders on Netflix.
Before that, she directed the opening of Netflix's Jessica Jones for Marvel, which received largely positive reviews, with Forbes's Merrill Barr stating, "Jessica Jones is the best thing Marvel Television has ever produced."
Variety critic Maureen Ryan wrote, "Not just a contender for the title Best Marvel-related TV property; in a supremely crowded TV scene, it is one of the year's most distinctive new dramas."
So, good credentials. But what will Trekkies make of a female director?
Film journalist Helen O'Hara welcomes Clarkson as the frontrunner for the next Star Trek film.
"It's good news that they've widened the pool beyond men, it's a promising development.
"And I'm pleased there is another Star Trek as that wasn't certain at one stage."
The film will be the follow-up to 2016's Star Trek Beyond.
O'Hara believes that Clarkson's experience will stand her in good stead for taking on such an iconic brand.
"She's got a really good TV CV with big, big shows like Heroes, Dexter and Life on Mars. She's worked across so many different genres she can do whatever she turns her hand to.
"I'm really optimistic."
It may seem like a bit of a leap from TV to such a blockbuster film franchise but as O'Hara points out, that's often been the case for men, too.
"[Look at] Colin Trevorrow with Jurassic World, even JJ Abrams – he didn't have a huge film before Star Trek."
O'Hara also thinks that Clarkson's experience with Marvel's Defenders and Jessica Jones will help.
"[They are] franchises with a big fan base, so she has experience of dealing with that."
Den of Geek founder and editor Simon Brew is also pleased with the prospective news but points out: "Isn't it sad that this is still a story in 2017?
"Star Trek is such a progressive franchise, [but] Clarkson would be the first female director in its entire history.
"It beggars belief… you almost have to be gratified they're doing something about it but you can't congratulate it."
He also points out that it's been much more difficult for women to break into the film world.
"Look at Alice Troughten (Doctor Who, Merlin, Atlantis) and Rachel Talalay – TV has really given them an outlet for their work."
In fact, Talalay has directed films such as Tank Girl and Freddie's Dead: The Final Nightmare but more recently has found success with TV's Doctor Who, Sherlock and Riverdale.
Brew explains: "Patty Jenkins did one feature which won an Oscar but TV was giving her the opportunities. There were 14 years between Monster (starring Charlize Theron) and Wonder Woman."
And, of course, Trekkies also have the Quentin Tarantino Star Trek film to look forward to.
Fear not, Tarantino's standalone movie won't be competing with Star Trek 4 and is likely to follow later.
Brew says: "He's got an idea that everyone's very excited about… hopefully it will all work out."
Follow us on Facebook, on Twitter @BBCNewsEnts, or on Instagram at bbcnewsents. If you have a story suggestion email entertainment.news@bbc.co.uk.