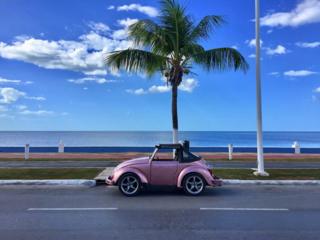 Photographer Dan Giannopoulos takes a playful look at Mexico's enduring love affair with one of the most recognisable cars in automotive history.
Although German by birth, the Volkswagen Beetle became as inextricably linked to modern Mexican culture as Frida Kahlo, mariachi bands and sugar skulls.
First sold to the Mexican public over 50 years ago, demand for the cars soon soared. While production ended in 2003, it's still nearly impossible to travel far without seeing the cars' classic curves peeping round the corner of a side street, parked on a driveway, or noisily idling at traffic lights.