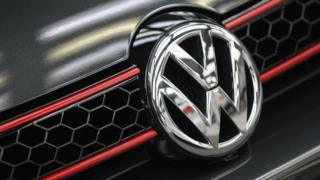 Germany's Volkswagen has warned its main factory in Wolfsburg faces temporary shutdowns later this year, owing to new emissions test standards.
It plans "closure days" to prevent a build-up of vehicles that have yet to be approved for sale.
From September, more rigorous EU standards apply, designed to replicate real driving conditions more closely.
Now VW says it does not have enough testing equipment to cope and fears that a backlog of cars will ensue.
At a meeting with unions on Wednesday, chief executive Herbert Diess admitted that meeting the new requirements, and getting new cars approved for sale, was proving a challenge.
Closure plan
"We will only build vehicles after the works holiday that fulfil the new standards. The deliveries will take place gradually as soon as the necessary approvals are there," Mr Diess told staff.
"But many vehicles will have to be warehoused in the meantime. To make sure their numbers don't become too large, we will have to plan closure days through the end of September," he added.
VW is still facing fallout from the scandal over its emissions cheating, which erupted in September 2015.
Last month, former chief executive Martin Winterkorn was charged by US prosecutors in Detroit with conspiring to mislead regulators.
The firm was found to have falsified diesel vehicles' emission levels by installing software "defeat devices" that allowed the vehicles to perform better in test conditions than they did on the road.