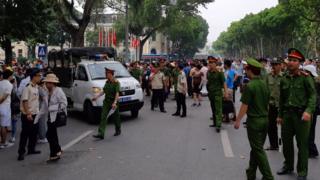 Protests have broken out in Vietnam against plans for new economic zones, amid fears that Chinese investors will dominate the areas.
Police reportedly detained more than a dozen people in the capital Hanoi and halted demonstrations in other cities.
Some carried anti-China banners, including one reading "No leasing land to China even for one day".
The government proposed a law last year that would give foreign investors a 99-year lease on Vietnamese land.
The bill offers them greater incentives and fewer restrictions, in an attempt to promote growth in target areas.
The protesters suspect that the Communist government will award Chinese investors a lease over three islands in the South China Sea, amid tensions between the two countries over disputed territory there.
Prime Minister Nguyen Xuan Phuc last week told local media the 99-year term would be reduced, although he did not specify the new length.
And on Saturday, the government announced a vote on the draft legislation would be delayed to allow further scrutiny.
Roughly $5 trillion worth of global trade passes through the South China Sea annually, and a number of countries in the area claim disputed islands in the area.
Vietnamese protests broke out in 2012 over the maritime dispute, although police quickly halted the demonstrations.