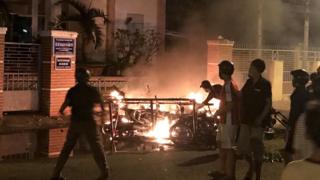 Scores of people have been detained by Vietnamese police amid protests against plans for special economic zones (SEZs) that many fear will be dominated by Chinese investors.
Molotov cocktails and rocks were lobbed at the People's Committee Headquarters in south-eastern Binh Thuan province, where police said 102 people were held.
The proposed law would give foreign investors 99-year leases on SEZ land.
MPs had been set to vote on it this week but this has been delayed.
The decision to postpone the vote in an attempt to defuse the protests was seen as a major concession by the ruling communist party in response to large-scale street demonstrations.
The chairwoman of parliament, Nguyen Thi Kim Ngan, said that people's opinions "will always be heard".
China's embassy in Hanoi has warned its citizens to be careful, referring to the protests as "illegal gatherings" that had included some "anti-China content".
Demonstrators had gathered in various parts of the country over the weekend, including the major urban centres of Hanoi, the capital, and Ho Chi Minh City.
Some carried anti-China banners, including one reading: "No leasing land to China even for one day."
Protests in the cities were quickly suppressed, but authorities faced much greater public anger in Binh Thuan, where demonstrators threw rocks, set vehicles alight, and briefly occupied the local government headquarters. State media outlets said dozens of police officers were injured.
On Monday, police formed barricades with their shields across roads into the town, and numerous explosions could be heard, as tear gas was fired into the crowd.
At a fire station attacked by protesters, riot police are reported to have laid down their shields and equipment and withdrawn in an apparent peace gesture.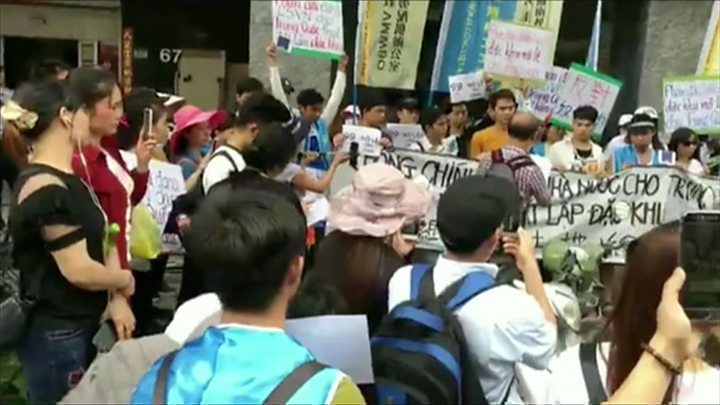 Why are the economic zones controversial?
The bill offers companies operating in the SEZs greater incentives and fewer restrictions, in an attempt to promote growth in target areas.
But protesters suspect that the communist government will award Chinese investors leases in the three economic zones in the north-east, south-east and south-west of the country, and that this would be a pretext for Chinese control over Vietnamese land.
In Binh Thuan, anti-Chinese sentiment combined with simmering anger over industrial pollution and land disputes, to ignite a flammable cocktail of local grievances, says BBC South East Asia correspondent Jonathan Head.
Demonstrators are also objecting to a cyber security bill, scheduled for a vote on 12 June. Human Rights Watch says it would give the government broad powers to quash dissent online.
Why the anger towards China?
China once colonised Vietnam, the two countries fought a border war less than 40 years ago, and Vietnam contests Chinese control of a number of islands in the South China Sea.
As a result, our correspondent says, Vietnam's leaders must always tread a delicate line between maintaining relations with their powerful neighbour, and avoiding provoking anti-Chinese sentiment in a fiercely nationalist population.
Roughly $5 trillion worth of global trade passes through the South China Sea annually, and a number of countries claim disputed islands there.
Vietnam has seen protests over the maritime disputes in recent years, including in 2014, when Chinese citizens fled the country in their thousands after violence targeting foreign-owned businesses.
---
Protesters bring China issue to the fore
By Giang Nguyen, editor of BBC Vietnamese
This is the biggest challenge for Vietnam's Prime Minister Nguyen Xuan Phuc since his government was sworn in more than two years ago with a pledge to stamp out corruption and revitalise the economy.
The three special economic zones are meant to be "mini Singapores" – business-friendly environments complete with high-tech hubs.
But Mr Phuc appears to have underestimated deep-seated resentments against China, and the speed at which protesters can utilise social media to organise street marches in cities including Hanoi and Saigon.
While some are fearful of a perceived Chinese influence in Vietnam under the economic zone proposals, others are concerned about plans for a new cyber security bill. The latter has angered Facebook users in particular, who fear the authorities will be given too much power, while online surveillance could become the norm.
Some critics said the government had lost touch with reality as it tried to push two controversial laws through a parliament where many MPs are openly against both.
Those against the SEZ law include three advisers to the PM.
---