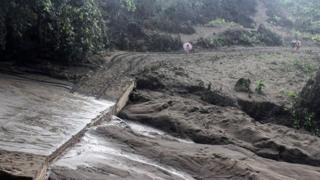 A Vanuatu island is being fully evacuated for a second time as its volcano erupts again.
The Manaro Voui volcano began spewing ash in recent days, prompting officials to order thousands of residents on tiny Ambae island to leave immediately.
The volcano began rumbling in September last year. This led to the island's first full evacuation.
Officials say this time that the volcano once again presents a danger to life.
Foreign Minister Ralph Regenvanu tweeted that Friday's evacuation was compulsory. Residents are being moved to neighbouring islands.
Authorities said last weekend that the volcano was in a "minor eruption" state. Observation flights recorded "explosions and ejection of hot rocks" and ash being emitted.
But the activity intensified over the past week, with heavy ash blanketing many parts of the island.
The US National Oceanic and Atmospheric Administration released satellite footage showing the latest eruption.
In September, the volcano had been seen emitting clouds of smoke with signs of hot lava emerging to the surface in its crater. More than 11,000 people fled their homes at the time.
Another evacuation was conducted in May, but this was not compulsory and many indicated they wanted to stay.
In a 2005 eruption, Manaro Voui displaced around 5,000 people.
The volcano sits on the Pacific Ring of Fire, a geologically active area which experiences earthquakes regularly and has hundreds of active volcanoes.