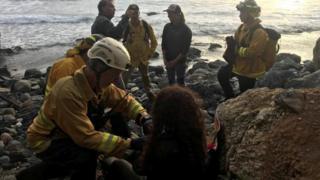 A US woman whose vehicle plunged off a California cliff has been found alive a week after she was reported missing.
Angela Hernandez, 23, survived by drinking water from the radiator of her wrecked jeep, police said.
She was found by hikers on Friday after they saw her vehicle partially submerged at the bottom of a 60m (200ft) cliff in the Big Sur area.
Ms Hernandez was conscious but had a shoulder injury and appeared to have suffered concussion, police said.
She told investigators she had swerved to avoid hitting an animal on Highway 1, California's famed coastal road.
She had been driving from her home in Portland to Los Angeles to visit her sister.
Monterey County Sheriff's Office spokesman John Thornburg said she was lucky to be alive.
"It's usually the fall that gets them, or the ocean that gets them, and she was lucky to survive both," he said.
Ms Hernandez would need time to get over her ordeal, her sister Isabel wrote on Facebook.
"This is very traumatic and will be a slow recovery process," she said.