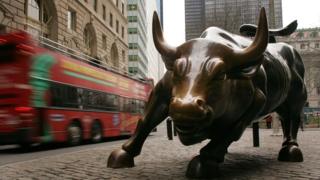 A move to relax US banking rules approved after the financial crisis has cleared its final stage in Congress.
The House of Representatives voted 258-159 to approve the measure, sending it to the president to sign into law.
The bill, which won some bipartisan support, reduces the oversight requirements for banks with less than $250bn in assets, among other measures.
Supporters say it will help banks grow, but critics say it could mean a return to reckless behaviour among lenders.
Republicans, including President Donald Trump, have repeatedly pledged to repeal 2010 financial regulations known as Dodd-Frank.
They argued that the law was overly complex and costly, putting smaller banks at a disadvantage and inhibiting economic growth and lending.
Among other things Dodd-Frank required large financial institutions:
To hold more money to use in the event of a financial shock
To have increased protections for consumers such as those taking out mortgages
And to use improved stress tests aimed at measuring their ability to withstand a severe economic downturn.
It also made banks with more than $50bn in assets automatically subject to strict levels of oversight.
Following the amendments, only about a dozen financial institutions will be automatically subject to the strictest rules.
But supporters argued it would not gut crisis-era protections.
"The House just voted to free our economy from overregulation," Paul Ryan, the House Speaker and Wisconsin Republican, wrote on Twitter after the vote.
"Main Street banks are engines of growth, and now it will be easier for these banks to lend to #SmallBiz and families."
However, critics of the changes said they would lead the US down a "dangerous road".
They also pointed to record profits on Wall Street, saying banks did not need further relief from the rules.
According to official figures, profits at the country's roughly 5,600 federally insured financial institutions totalled a record $56bn in the first three months of the year.
That was a more than 27% rise from the same period in 2017.
"It's a bad bill under the guise of helping community banks," Nancy Pelosi, the Democratic minority leader said earlier this week.
"The bill would take us back to the days when unchecked recklessness on Wall Street ignited an historic financial meltdown."
Republicans, who wanted the reforms to go further, said they were working on other deregulatory proposals.
According to the New York Times, later this month, regulators are also expected to publish a plan to water-down the Volcker Rule, which bans banks from making risky bets with depositors' money.