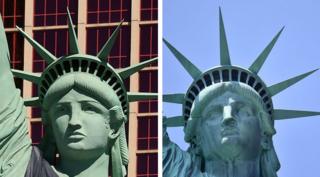 The US Postal Service has been ordered to pay $3.5m (£2.6m) for copyright infringement after mistakenly using the wrong Statue of Liberty on a stamp.
The Postal Service used the image of sculptor Robert Davidson's Las Vegas replica on a 2010 stamp design instead of the New York original.
Mr Davidson called his replica "sexier", and a judge ruled that the statues were indeed "unmistakably" different.
The Postal Service has not commented on the verdict.
In his original 2013 complaint, Mr Davidson said his work gave the American icon a more "fresh-faced, sultry and even sexier" look, US media reported.
Federal Judge Eric Bruggink ruled on 29 June that Mr Davidson was entitled to a share of the US Postal Service's (USPS) earnings from the stamp.
USPS sold 4.9bn stamps with the Vegas Lady Liberty image, amounting to profits of $70m before it was retired in 2014, according to court documents.
During the lawsuit, USPS claimed Mr Davidson's replica was "too similar to the original in New York Harbor and that the government's use copied nothing original".
Mr Davidson said he did look at images of the original while formulating the face of the Vegas statue, but decided the replica "needed a little more modern, a little more contemporary face, definitely more feminine" to be "more appropriate for Las Vegas".
He also testified that he used an image of his mother-in-law as reference while sculpting the statue's face.
The judge called the government's conclusion "nonsense" in the court opinion.
"The government points to the fact that the Postal Service did not notice the difference between the two faces itself until notified months after producing many millions of stamps," the opinion reads. "This is nonsense."
The court added that the stamp used "entirely of what we consider to have been the original work contributed by Mr Davidson" and said "The Postal Service offered neither public attribution nor apology".
In 2011, USPS was made aware of the incorrect image, but continued selling the stamps anyway.
The court documents say that in response to an inquiry by a member of Congress, the USPS admitted "that it should have correctly attributed the image to Mr Davidson and that new procedures had been put in place to avoid such errors in the future".
Mr Davidson's Lady Liberty was completed in 1996, ultimately featuring differences from the original in the eyes, eyelids and lips.
USPS has come under fire for misusing art before.
In 2015, a federal court awarded $540,000 in damages to a New England artist whose work was featured on a Korean War stamp without his permission, the Washington Post reported.