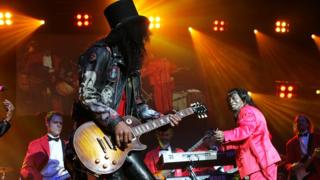 Gibson, whose electric guitars have been played by stars including Elvis, Keith Richards and Jimmy Page, has filed for bankruptcy protection as it struggles with $500m (£367m) of debt.
Lenders will take control of the Nashville-based company, which was founded in 1902.
It made an ill-fated acquisition of Philips' consumer audio division four years ago for $135m.
Gibson will pull out of that business, and focus on musical instruments.
Chief executive Henry Juszkiewicz, who bought the company in 1986, said the Chapter 11 filing would assure the company's "long-term stability and financial health".
Under the bankruptcy measures, Gibson will wind down its consumer audio business, whose brands include KRK, Cerwin Vega and Stanton headphones, loudspeakers and turntables.
Mandolin origins
The firm makes its electric guitars in Nashville and Memphis, while its acoustic guitars are manufactured in Bozeman, Montana.
It sells more than 170,000 guitars annually in more than 80 countries, and said electric guitar sales jumped more than 10% to $122m in the 12 months to January.
Lenders including Silver Point Capital, Melody Capital Partners and funds affiliated with KKR Credit Advisors will take a stake in the company.
It aims to exit bankruptcy protection on 24 September.
The earliest documented instrument produced by founder Orville Gibson was a mandolin made in 1894, with the company being officially founded eight years later.
The guitar which defined the brand
Perhaps the most famous of Gibson's guitars has been the Gibson Les Paul.
First built in 1940 after guitarist Les Paul worked on the design with the company, it became one of the first solid body guitars and was built to compete with rival Fender.
Slash of Guns N' Roses is the guitarist most famously associated with the Les Paul, and later became an official ambassador for Gibson.
Jimmy Page of Led Zeppelin switched from the Fender Telecaster to the Gibson Les Paul – owning several which he had modified to help produce his distinctive sound.
And while Bob Marley is not remembered primarily for his guitar skill, much of his electric work involved a modified Gibson Les Paul Junior.
Noel Gallagher owns the black Gibson Les Paul which Johnny Marr played on seminal The Smiths album, The Queen is Dead.
In an interview with Music Radar in 2015, Marr said it was one of several he gave to the Oasis songwriter – implying he did so while drunk but that he had no regrets.
"With Noel, the guitars went to a really good home. He wrote some great stuff with them, so it all worked out."