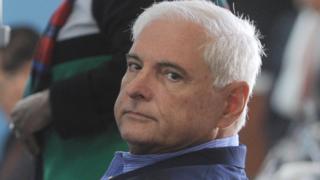 US authorities have approved the extradition of Panama's ex-president Ricardo Martinelli.
Current President Juan Carlos Varela confirmed that the US state department had granted the request.
Mr Martinelli, 66, is wanted in Panama over allegations of corruption and illegal wiretapping. He has been held in Miami, Florida, since last June.
Mr Martinelli denies any wrongdoing and says the charges against him are politically motivated.
He governed the Central American nation from 2009 to 2014.
"I can tell you that the foreign ministry, through our embassy in Washington, has received a letter from the [US] state department on the approval of the extradition of former President Martinelli," Mr Varela said.
Mr Martinelli's lawyer, Sidney Sitton, was quoted by Panamanian television as saying that the transfer to Panama could be "in the next hours, today, tomorrow, Monday or Tuesday".
In 2015, Panama's Supreme Court ordered Mr Martinelli's arrest over accusations that he used public funds to illegally spy on more than 150 prominent people.
He had earlier flown to the US, just days before the court launched a corruption investigation against him.
An extradition request was issued and Mr Martinelli was taken into federal custody near his home in Coral Gables, Florida, in June 2017.
He applied for political asylum, saying the allegations against him were part of a political vendetta, and his legal team launched a series of appeals against the extradition.