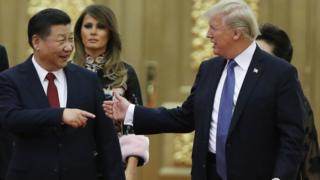 The US has ramped up its trade war with China, listing $200bn (£150bn) worth of additional products it plans to place tariffs on as soon as September.
The move comes just days after the two countries imposed tit-for-tat tariffs of $34bn on each other's goods.
President Donald Trump had already threatened to impose additional tariffs against China if it retaliated.
The list names more than 6,000 items including food products, minerals and consumer goods such as handbags.
The public will have until the end of August to comment on the list before the new tariffs – to be imposed at 10% – come into effect.
The White House says the tariffs are a response to unfair trade practices by China.
The US wants China to stop practices that allegedly encourage transfer of intellectual property – design and product ideas – to Chinese companies, such as requirements that foreign firms share ownership with local partners to access the Chinese market.
US Trade Representative Robert Lighthizer said there was "no justification" for China's retaliation.
"As in the past, the United States is willing to engage in efforts that could lead to a resolution of our concerns about China's unfair trade practices and to China opening its market to US goods and services," he said.
"In the meantime, we will remain vigilant in defending the ability of our workers and businesses to compete on a fair and reciprocal basis."
'Increasingly worried'
Many companies in the US are opposed to the administration's use of tariffs against China, saying they risk hurting business and the economy without being likely to change behaviour.
On top of the $34bn worth of tariffs that came into effect on Friday, the White House has said it would consult on tariffs on another $16bn of products. President Trump has suggested these could come into effect later this month.
In total, the new import taxes President Trump is threatening to impose are almost equal to the value of China's entire goods exports to the US, worth more than $500bn last year.
"It's a difficult situation for a number of our companies. They're getting increasingly worried about where this is all going," Ed Brzytwa, director of international trade for the American Chemistry Council, which represents chemical companies, told the BBC on Tuesday before the latest measures were announced.
"They can't figure out what the end game is."