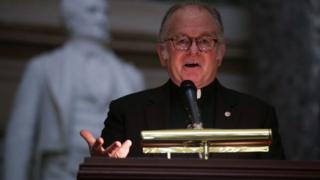 The US House of Representatives chaplain will stay in his post after at first claiming he was forced to quit by top Republican Paul Ryan last month.
Catholic Reverend Patrick Conroy said in a letter he was forced out, believing the House Speaker had the power to fire him.
US lawmakers had raised questions over his sudden departure, said to be in part because of a "political prayer".
Mr Ryan denies forcing the cleric to quit and has now reinstated him.
The Jesuit priest has been the House chaplain since 2011.
"It is my job as speaker to do what is best for this body, and I know that this body is not well served by a protracted fight over such an important post," Mr Ryan said.
The top Republican, who is also Catholic, had previously said lawmakers had complained about the reverend's lack of interaction.
"I have never been disciplined, nor reprimanded, nor have I ever heard a complaint about my ministry during my time as House Chaplain," Father Conroy wrote in his two-page retraction letter addressed to Mr Ryan.
In it, he explained he had felt obliged to resign after Mr Ryan's chief of staff told him "maybe it's time that we had a Chaplain that wasn't Catholic".
He claims he was also told the Speaker was unhappy with his November prayer urging economic fairness ahead of a vote on tax cuts.
"You may wish to outright 'fire' me, if you have the authority to do so," Father Conroy wrote to Mr Ryan, "but should you wish to terminate my services, it will be without my offer of resignation, as you requested."