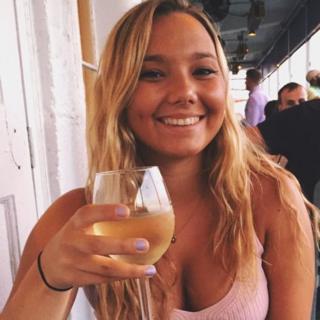 A US ballet dancer may not yet realise she has lost both legs in a Bahamas tour boat explosion that killed another American, says a relative.
Stefanie Schaffer, 22, is in a medically induced coma, and is thought to be unaware both her legs have been amputated, her uncle told US media.
A Tennessee woman, Maleka Grimes, 39, who was celebrating her wedding anniversary, died in Saturday's blast.
Ten US tourists and two Bahamian guides were aboard when the engine blew up.
It is not yet clear what caused the explosion on the 40ft (12m) chartered vessel, minutes into the trip off Barraterre island in the Exuma Cays.
Ms Grimes was on holiday celebrating 15 years of marriage with her husband, Tiran Jackson, who is in a critical condition.
He was among four Americans airlifted to hospital in Florida, the US Coast Guard said.
The family said in a statement to US media on Tuesday: "As you can imagine this is an incredibly difficult time for the family, especially Tiran and Maleka's 12-year-old son.
"The family extends their gratitude to the US Embassy in the Bahamas for their continued assistance and asks for privacy as they continue their journey to healing."
Video posted online shows the boat engulfed by flamed and smoke after the blast.
Ms Schaffer was sitting right above the location of the blast and is also in a critical condition, her uncle told NBC News.
"I don't think she knows she doesn't have any legs left," he said.
The lifelong ballet dancer also suffered two broken arms, a broken wrist, a fractured spine, internal injuries to her kidneys, spleen and liver, said her brother in a Facebook post.
Her sister, Brooke, mother, Stacey, and stepfather, Paul Bender, were aboard the boat with her and were injured.
Her brother, George Schaffer, said on Facebook: "My step dad and youngest sister were lucky enough to walk away with minor injuries but my mom and Stef weren't so lucky.
"My mom currently has a fractured lower right leg, a shattered left ankle that is going to require surgery, a fractured right wrist, at least two broken ribs, and a contusion on her lungs."
The Vermont Center for Dance Education said Ms Schaffer had been a part of their "dance family" for years.
Ms Schaffer is due to graduate from Coastal Carolina University in December.