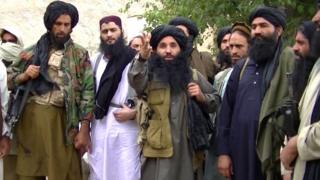 There are unconfirmed media reports that Mullah Fazlullah – the commander of the Pakistan Taliban – has been killed in a US air strike in Afghanistan.
Fazlullah's men shot the schoolgirl activist Malala Yousafzai in Pakistan in 2012.
He became head of the Pakistani Taliban in 2013 and has been operating in Afghanistan for years.
The US attack was in collaboration with Afghan forces.
The US said the strike was aimed at a senior militant figure, in the eastern Afghan province of Kunar, which is on the Pakistani border.
An Afghan Defence Ministry spokesman told the BBC that Fazlullah was targeted and killed.
The Taliban has not yet commented.
Earlier this month the Afghan government announced a temporary ceasefire with the Taliban to coincide with the end of Ramadan.
Days later the Taliban announced a three-day ceasefire with Afghan government forces, also to coincide with Eid.
Afghans are celebrating Eid, the end of Ramadan, on Friday. President Ashraf Ghani announced in a televised message that both sides had honoured the ceasefire and called on the Taliban to extend their ceasefire beyond Sunday.
The US said it too would respect the ceasefire in a statement on 7 June "to allow the Afghan people to celebrate Eid al-Fitr without fear of violence".
The US has sharply escalated its bombing of Taliban targets in Afghanistan since President Trump announced a new, open-ended military strategy last year.
Fazlullah is seen as a ruthless extremist who wanted to impose sharia law across Pakistan.
He was also behind a 2014 school massacre that killed more than 130 children in the Pakistani city of Peshawar.
Malala Yousafzai, a campaigner for girls' right to education, recovered from being shot in the head in the 2012 attack when she was just 15, and was later awarded the Nobel Peace Prize.
She is currently studying at the University of Oxford.