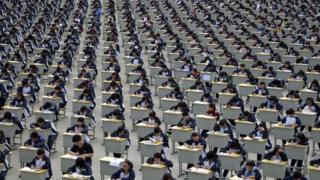 A US university will begin accepting the Chinese university entrance exam known as the Gaokao in an effort to attract more Chinese students.
The University of New Hampshire will be the first state university in the US to accept the standardised placement test.
China is the largest exporter of students to the US, with 377,000 currently enrolled in US universities, according to government data.
An estimated 10 million students took the nine-hour test in China last week.
The exam – which takes place over two days in June each year – is taken by nearly every Chinese pupil and plays a crucial role in determining a person's career and future prospects.
A 'life-defining' test
Howard Zhang, BBC Chinese Service Editor
Gaokao literally means High Exam. It refers to the annual National Higher Education Entrance Exam in China, similar in format to the SAT in the United States.
Millions of Chinese high school seniors who sit through this highly competitive multi-subject exams each year see it as a life-defining moment.
Graduates who make it into top universities often end up in top companies and with good careers. Those who fail to enter university are often condemned to a life with little prospects.
Almost 10 million students sat through this year's Gaokao; one out of four won't end up with a university place.
The Gaokao predates modern times, having its roots in imperial China.
The University of New Hampshire had 781 international undergraduate and graduate students on campus last fall, according to the Union Leader newspaper – double the figure from five years previous.
About half of those foreign students – 357 – came from China.
As part of the new initiative, the university has launched a recruiting website in Chinese and English.
"This initiative is part of UNH's commitment to attracting more and stronger applicants from around the world," said university spokeswoman Erika Mantz.
"This new programme will in no way limit access for New Hampshire students," she added.
In addition to submitting their Gaokao results, students must also take an English test, participate in a video interview and send their high school transcripts before moving forward with the application process.
Ms Mantz added that the process was still being finalised, but that Chinese students may still need to take the American SAT or ACT exam.
Students who are accepted will be able to begin classes in Durham this January, allowing them to start a semester early.
Previously, students from China would have had to wait for a new application period to begin in the autumn, putting them behind the rest of the first-year class.
A similar programme at the University of San Francisco, a Jesuit college, allows Chinese students to bypass US standardised tests altogether and instead submit just their Gaokao score, grades, and English language interview.
Up to three percent of Chinese students bypass the Gaokao by paying to for an "international track" programme, which prepares them for standardised testing abroad.
International enrolment – in which students are required to pay full priced tuition – helps universities bolster revenue.
The University of New Hampshire charges $45,000 (£34,000) per academic year for tuition and housing costs.
Dozens of universities in Europe, Australia, and Canada already accept Gaokao results on applications.
The US university's decision comes amid a federal crackdown on Chinese student visas.
The Trump administration announced in March that it is considering limiting the visas as part of a broad package of measures against China, which the US accuses of violating American intellectual-property laws.
The goal, the White House says, is to reduce "economic theft by non-traditional intelligence collectors".
Details have not been officially announced, but students studying high tech manufacturing fields, such as aviation and robotics, are expected to now receive visas with shorter lengths of stay.
The Associated Press reported in late May that US consulates have been directed by the Department of State to now only issue Chinese students with one-year – rather than five-year – visas.