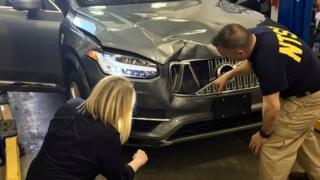 Uber has pulled the plug on its self-driving car operation in Arizona two months after a pedestrian was killed in an accident involving one of its cars.
However, the ride-hailing company said it hopes to resume self-driving tests in Pennsylvania this summer.
The firm said: "We're committed to self-driving technology, and we look forward to returning to public roads in the near future."
It said it wanted to focus tests on the states where its engineers work.
Uber, best known for its taxi app, began testing its first self-driving cars in Pittsburgh, Pennsylvania in 2016, gradually expanding to other places, including Arizona, San Francisco, California and Toronto.
It halted all those operations in March after the crash, which sparked debate about the readiness and safety of driverless car technology.
The firm is also conducting a "top-to-bottom safety review" of its self-driving programme, including software and training.
Uber hopes to resume tests this summer in Pittsburgh after federal officials conclude their investigation of the accident.
After that, it will look at other locations.
About 300 workers for the firm's self-driving programme in Arizona will lose their jobs. The more than 500 employees of its traditional taxi service in Arizona are not affected.
Arizona's governor, who had championed driverless cars, ordered the company to stay off the road amid an outcry over the accident.