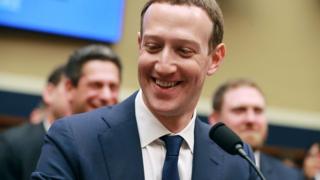 In a change of plan, the public will be able to watch Mark Zuckerberg's response to European Parliament leaders' privacy concerns.
The body's president, Antonio Tajani, has tweeted that tomorrow's 75-minute meeting would be livestreamed.
Earlier, news that the Facebook chief's meeting with the parliament's political group leaders would be in private, had been criticised.
The arrangement had been unfavourably compared to his Washington testimony.
"It is disgraceful how Zuckerberg promises more transparency, but does not want to make public statements in the European Parliament. Facebook operates a public platform and therefore has to publicly take responsibility for its actions," said an online petition launched by the German Green Party's MEP Sven Giegold.
"Like the American citizens, we are entitled to a public hearing of Zuckerberg as well."
More than 30,000 people had signed support for his Change.org campaign.
"Pressure works!" Mr Giegold posted in response to the U-turn.
However, some politicians remain unhappy that the meeting is not open to more MEPs.
"This is not enough. We don't want a show, we need scrutiny by competent MEPs. This is how parliamentarism works," posted Austrian MEP Josef Weidebholzer., vice-president of the group of the Progressive Alliance of Socialists and Democrats.
Facebook has repeatedly declined to allow British MPs to quiz Mr Zuckerberg about the Cambridge Analytica scandal, in which millions of users' personal data was shared with a political consultancy in breach of the social network's rules.
"The data breach affected over one million UK Facebook users," tweeted Damian Collins – chairman of the Digital, Culture, Media and Sport Select Committee – over the weekend.
"I think [we] should be able to question Mark Zuckerberg about this."
The European Parliament's webstream is due to be broadcast on the European Parliament's website between 18:15 and 19:30 local time (17:15 to 18:30 BST) on Tuesday.