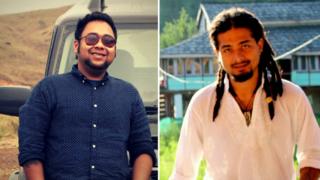 India police have arrested 16 people after two men became the latest victims of hysteria over WhatsApp rumours of child kidnappers.
The men were visiting a village in north-eastern Assam state when they were beaten to death by a large mob.
Rumours of child kidnappings are spreading across India over WhatsApp, and have already led to the deaths of six other people in the last month.
Police say it is proving hard to debunk the messages on social media.
"When rumours start circulating on social media, it takes some time to stop them completely," senior police official Mukesh Agarwal told BBC Hindi's Dilip Kumar Sharma. He added that police are keeping a watch over various social media sites in an attempt to stop the spread of the messages.
The two victims have been identified as Nilotpal Das, an audio engineer and Abijeet Nath, a digital artist – both residents of Guwahati, the largest city in Assam.
Police say the two were attacked when they stopped at the village to ask for directions.
A video of the attack went viral over the weekend, where one of the men can be seen pleading for his life. On Sunday, students and activists filled the streets of Guwahati to protest the killings.
The state government has said it has dedicated special control rooms to counter rumours as well as provide awareness drives to prevent any spreading panic in the region.
It is not clear when and how the rumours started, but India has seen sporadic incidents of mob justice and vigilantism in the past.
In some cases, doctored video messages showing children being snatched from streets have gone viral, prompting locals to beat up any one who looks unfamiliar or cannot speak the regional language.