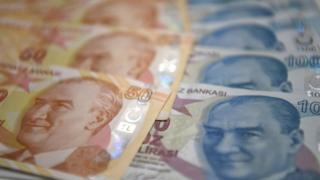 The Turkish lira has fallen more than 5% to hit a record low against the US dollar.
The currency has lost more than a fifth of its value this year as fears grow that the government might undermine the powers of Turkey's central bank.
Many investors want to see a rise in interest rates to bring down inflation, which is in double figures.
However, President Recep Tayyip Erdogan has described himself as an "enemy of interest rates".
Mr Erdogan said he plans to take more control of the country's finances after a general election on 24 June.
His deputy Bekir Bozdag has implied that foreign powers were to blame for the lira's collapse.
"The people have seen the game and the player, the people have seen the puppet and puppeteers. They will not allow them or give an opportunity," he said.
Economy Minister Nihat Zeybekci said the lira's current level was "abnormal", but added that, as yet, no permanent damage had been done to the economy.
The lira fell as low as 4.8450 against the dollar early on Wednesday before recovering slightly.
Peter Dixon, an economist at Commerzbank, said investors were concerned about the amount of financial power that could end up in Mr Edogan's hands.
"I think markets are beginning to take fright at the extent of government interference over certainly central bank policy," he said.
"That's certainly been one of the factors which has caused the lira to lose ground. It's been a trend which has been ongoing for some time, but I think the rhetoric is being cranked up now."
The next meeting of Turkey's central bank is not due to be held until 7 June, but some economists believe an emergency – and significant – increase in rates is essential.
William Jackson, emerging markets economist at Capital Economics in London, said it seems "highly likely that they'll take action".
The central bank needed to raise rates by between 2 and 3 percentage points to give some support to the lira, he said.
Such a rise would be many times larger than the changes to rates usually made by central banks.