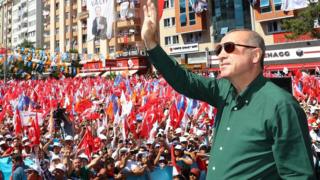 On Sunday, Turkey will choose its president and parliament, in a vote that will decide the political future of President Recep Tayyip Erdogan.
He called snap elections, brought forward from late 2019, and is hoping to cement his position with beefed-up powers.
He has won every vote in his 15 years in power, but Turkey is in the midst of an economic slump and he faces a strong opposition campaign.
Here is a rundown of what you need to know – in brief and at greater length.
Read either or both to understand what Sunday's vote could mean.
Turkey's Recep Tayyip Erdogan is running for a second presidential term, but this time is different.
After the vote, a wide range of new powers approved in a 2017 referendum will come into force, transforming what was once a ceremonial role into an executive position of considerable power.
Mr Erdogan is favourite to win – but he is aiming to retain the presidency on Sunday with more than 50% of the vote.
Otherwise he will be forced into a second round, which could lessen his victory and mandate, or even end in defeat.
Parliamentary elections also take place on Sunday, which could result in a power shift – and a new parliament that could support or oppose the newly empowered president.
Recep Tayyip Erdogan, backed by his Islamist-rooted AK Party (AKP), has reshaped Turkey more than any other person since the founding of the modern state.
But he is a controversial figure, having moved to consolidate his power after a failed coup against his rule in 2016. Turkey has been under a state of emergency ever since, with 107,000 public servants and soldiers dismissed from their jobs. More than 50,000 people have been imprisoned pending trial since July 2016.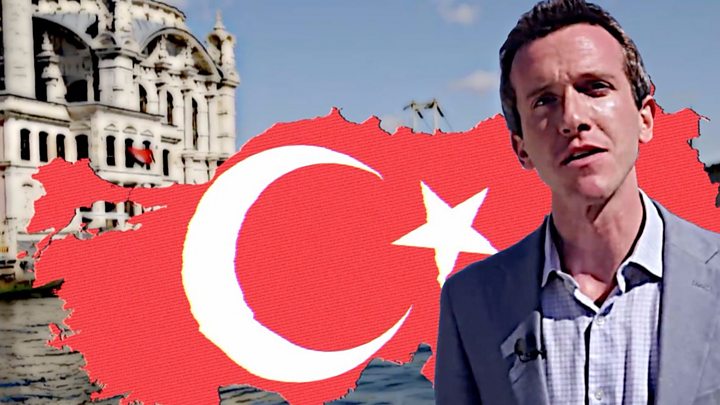 After completing two terms as prime minister, Mr Erdogan won the first-ever election to the presidency in 2014, for what was supposed to be a largely ceremonial role.
Then, in April 2017, 51% of Turkish voters endorsed a new constitution that grants new powers to the presidency.
These include:
Directly appointing top public officials, including ministers and vice-presidents
The power to intervene in the country's legal system
The power to impose a state of emergency
In addition to those changes, the job of prime minister will be scrapped.
Some critics feel the new president will wield too much power, and that Turkey lacks the checks and balances of other executive presidencies such as France or the United States.
There are six candidates for the presidency. If one of them wins just over 50% of the vote on Sunday, they win the presidency. But if no-one does, there will be a second round on 8 July.
Mr Erdogan is hoping to win outright, but may be facing his greatest challenge in years.
The economy is a major issue in the campaign. Inflation has risen to more than 10%, and a steep fall in the value of the lira has hit many people in their pockets.
Religion is also a factor. Modern Turkey is a secular republic, but under Mr Erdogan's AKP party it has accepted Islamic symbols in public life to some extent – for example, in allowing female state employees to wear headscarves.
Mr Erdogan's main rival, Muharrem Ince of the Republican People's Party (CHP), is staunchly secular and a fierce critic of Mr Erdogan. Mr Ince has performed well in the campaign, and could be a real threat in any run-off.
And Sunday's parliamentary election, running side-by-side with the presidential poll, could have a major impact on round two.
If Mr Erdogan's AKP group keeps its majority in the 600-seat assembly, he will head into a run-off vote in a strong position. If not, it could damage his image and change the outcome.
Much hinges upon whether the pro-Kurdish Peoples' Democratic Party (HDP), which is firmly against Mr Erdogan, wins 10% of the national vote.
If the HDP falls short of 10%, it will not get any seats under Turkey's list-based allocation system. But if it achieves 10% or more, it will remain in parliament and make it harder for Mr Erdogan's AKP to gain a majority.
No matter what happens, the result will be important for Turkey's future.
If Mr Erdogan wins the presidency and his party keeps its majority, he will have successfully consolidated his political power.
If both elections go against him, Turkey's political landscape will be dramatically changed.
But if the presidency goes one way and the parliament another, it could signal a period of political instability for Turkey in the years ahead.
Turkish voters living abroad – about three million of the 59 million voters in total – have already cast their votes.
The remainder will make their choice on Sunday.