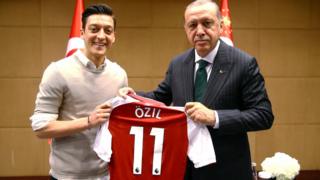 The German Football Federation (DFB) has criticised its internationals Mesut Özil and Ilkay Gündogan for posing in photos with Turkish President Recep Tayyip Erdogan.
The two German-born players, both of Turkish origin, gave Mr Erdogan signed shirts at an event in London on Sunday.
Gündogan wrote: "For my honoured President, with great respect." Mr Erdogan is campaigning for re-election.
Özil plays for Arsenal and Gündogan for Manchester City.
Both players are preparing for next month's Fifa World Cup in Russia, in which Germany is among the favourites. Turkey did not qualify.
Many German politicians have also criticised the footballers, questioning their loyalty to German democratic values.
DFB president Reinhard Grindel said: "Football and the DFB defend values which are not sufficiently respected by Mr Erdogan.
"That's why it's not good that our international players let themselves be manipulated for his electoral campaign. In doing that, our players have certainly not helped the DFB's work on integration."
DFB director Oliver Bierhoff said: "Neither one of them was aware of the symbolic value of this photo, but it's clearly not right and we'll be talking to them about it".
In his youth, before entering politics in the 1990s, Mr Erdogan played football semi-professionally for an Istanbul team, Kasimpasa.
Read more:
Mr Erdogan, in power for the past 15 years, is seeking re-election in a snap poll on 24 June.
His Islamist-rooted AK Party has cracked down hard on opponents, especially since the July 2016 coup attempt by military officers.
Turkish police have arrested more than 50,000 people accused of links to US-based Islamic cleric Fethullah Gulen or to Kurdish separatists. They include opposition activists, journalists, teachers, lawyers and other public servants.
Mr Erdogan has also purged the military, police and judiciary, putting many state officials on trial.
He has created a powerful presidency since winning an April 2017 referendum on constitutional changes, enabling him to dominate parliament and control the judiciary.