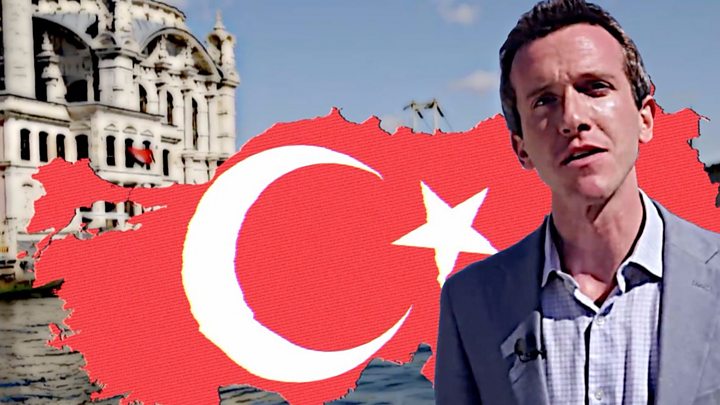 Three people are dead and eight wounded in southern Turkey, after election campaigning descended into violence.
The incident has heightened tensions ahead of the 24 June vote, in which President Recep Tayyip Erdogan is aiming for a second term.
The clash broke out in the mainly Kurdish town of Suruc, when an MP from the ruling AKP, Ibrahim Halil Yildiz, was touring some shops.
Pro-government and pro-Kurdish accounts of the incident differ significantly.
The state-run Anadolu news agency reports that Kurdish militant shopkeepers attacked the MP's entourage, and says his brother is among the dead. It says supporters of the pro-Kurdish Peoples' Democratic Party (HDP) were involved in the bloodshed.
But opposition sources say the politician's bodyguards opened fire when he received a hostile reception.
Eight people were taken to hospital and police made 10 arrests, security sources say.
Why is the vote so tense?
The presidential and parliamentary elections are expected to be close run.
Mr Erdogan could be forced into a run-off and the AKP (the Justice and Development Party) may lose its majority in parliament.
The presidential candidate for the pro-Kurdish HDP, Selahattin Demirtas, is campaigning from prison after being arrested in November 2016.
If his party exceeds the 10% vote threshold required to enter Turkey's parliament, that could jeopardise Mr Erdogan's chances of a majority.
Speaking about the bloodshed on Thursday, HDP co-leader Pervin Buldan condemned the killings and added: "We see that some are trying to incite the people with provocations."
Mr Erdogan's spokesman Ibrahim Kalin condemned the "hideous attack" on Twitter.
Read more on Turkey and the election campaign here:
What is Erdogan's strategy?
BBC Turkey Correspondent Mark Lowen reports that the violence on Thursday came after a video leaked on social media purported to show President Erdogan advocating the intimidation of Kurds to win more votes.
The video shows the president telling party officials that they should focus on the HDP. He then tells them that they have the voter lists of each neighbourhood, and should do what is necessary.
He adds that if AKP officials arrive at polling stations before the other parties, in his words, "it can end before it even begins".
The president's supporters have argued that this is a legitimate campaign strategy to deal with the competition.
His critics say he's encouraging the intimidation – or worse – of Kurdish voters.
"Amidst what could be the closest election in many years, it's an increasingly dirty fight for every vote," our correspondent reports.