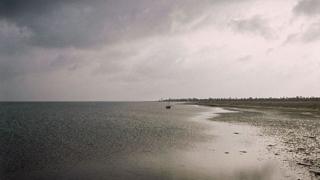 At least 35 migrants died after their boat capsized off the southern coast of Tunisia, the Tunisian government says.
Sixty-seven others – from Tunisia and elsewhere – were rescued by the coastguard.
The country has become an important new route for migrants trying to make the crossing to Europe in the past year.
This comes after moves against human traffickers in Libya, who have regularly enslaved, tortured or murdered migrants.
The latest boat to go down off Tunisia was packed with about 180 people, most of whom were Tunisian, the country's interior ministry said.
"The boat was five miles from the Kerkennah Islands and 16 nautical miles from the city of Sfax," the ministry said in a statement quoted by the AFP news agency,
Unemployed Tunisians and other Africans often seek to cross the Mediterranean sea in makeshift boats from Tunisia to Sicily in Italy.
The deaths come on the same day Italy's new Interior Minister Matteo Salvini said on a visit to Sicily that the island must stop being "the refugee camp of Europe".
Meanwhile, the Turkish coastguard said nine migrants, including six children, drowned in a similar accident off the coast of Antalya province.
A note on terminology: The BBC uses the term migrant to refer to all people on the move who have yet to complete the legal process of claiming asylum. This group includes people fleeing war-torn countries such as Syria, who are likely to be granted refugee status, as well as people who are seeking jobs and better lives, who governments are likely to rule are economic migrants.