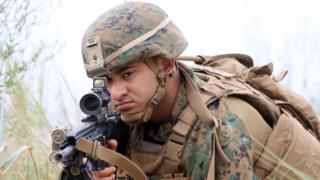 President Trump says the US is being "taken advantage of" by other members of the Nato alliance, which was set up in 1949 to counter the Soviet Union.
Shortly before leaving for the Nato summit, he said other members should increase their financial contributions.
But the President of the European Council, Donald Tusk, hit back by saying that the US had no better ally than Europe.
In 2014, all Nato members agreed to increase their defence spending to 2% of GDP (gross domestic product, the total value of goods produced and services provided) by 2024.
The US currently spends more than 3.5% of its GDP on defence. Among European members, Greece, the UK and Estonia spend over 2%.
But Nato says it expects the number who spend at least 2% to increase to eight this year.
What does the US contribute in terms of forces in Europe and where are they based?
At the height of the Cold War, there were more than 400,000 US military personnel in Europe. Today, the US has more than 60,000 in Europe, including Turkey.
Germany currently hosts by far the largest number of US forces, followed by Italy, the UK and Spain.
These personnel also support other non-Nato operations such as the US Africa Command, which has its HQ in Stuttgart, in Germany, as well as the US Transport Command (based in the US), which organises the movement of forces and materiel around the world.
However, US military numbers fluctuate as forces are rotated in and out of the European theatre at any given time.
Large numbers of US troops pass through Europe each year – either for a lengthy stay or for short-term exercises to reassure Nato allies concerned about Russia.
One of the biggest in years, Trident Juncture 2018, is planned for October in Norway and the north Atlantic – and the US will play an important role.
Another key part of the US's commitment to the defence of Europe is the European Reassurance Initiative, launched after Russia's intervention in Ukraine in 2014.
Despite Mr Trump's warnings about the level of US financial commitment to Nato, the US is planning to increase the budget for this by 40% in 2018, to $4.7bn, up from $789m in 2016 under President Obama.
It's also worth remembering that the US has global military commitments. In fact, the largest single deployment of forces is not in Europe but in Japan.
There are also significant numbers in South Korea and in Afghanistan, where the US contributes to the Nato-led mission there.