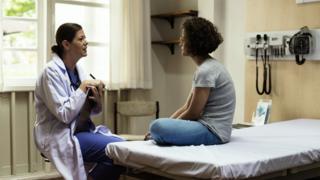 The Trump administration is expected to announce that organisations that offer or mention abortion to their patients will lose federal funding.
One such organisation, Planned Parenthood, said the proposal was "dangerous" and "outrageous" and would "have devastating consequences".
Anti-abortion activists thanked US President Donald Trump for "delivering on a key promise".
Anonymous officials have told reporters the policy will be announced later.
What will the change mean?
Clinics that receive federal money from a family planning programme known as Title X will be banned from referring clients for abortion, discussing abortion with patients, or sharing space with abortion providers.
If they do so, their funding will be withdrawn.
The policy shift mirrors the Mexico City Policy, one of the first actions of the Trump administration, under which organisations abroad that receive US aid for family planning may not perform abortions, even with other funding.
Critics called that policy the "global gag law" because organisations felt they could not offer women full advice on family planning – they are calling this the "domestic gag law".
Politically, it plants the abortion question in the middle of debates ahead of November's midterm elections.
What is Title X?
A programme for low-income patients, it provides $260m (€220m; £192m) a year in federal money to family planning services such as contraception and health checks.
The amount of money available will not be reduced.
The 1970 law that brought Title X into place makes it clear that its funds are not to be used for abortions. But programmes funded by it have over the years been located in the same place as abortion clinics, and have referred patients for abortions.
An official told the Weekly Standard that the proposal would "require a bright line of physical as well as financial separation between Title X programmes and any programme or facility where abortion is performed, supported or referred for as a method of family planning".
What reaction has there been so far?
Senators including Elizabeth Warren signed a letter opposing the move, calling it "part of a broader assault by Republicans on the health, safety, and economic independence of women and their families".
The executive vice president of Planned Parenthood, Dawn Laguens, said in a statement that the change was "designed to make it impossible for millions of patients to get birth control or preventive care" and "would have devastating consequences across the country".
Marjorie Dannenfelser from the anti-abortion Susan B Anthony List thanked Mr Trump for "taking action to disentangle taxpayers from the abortion business".
Is Trump specifically targeting Planned Parenthood?
No, there are other organisations affected, but Planned Parenthood has become something of a political issue in the US.
A reproductive healthcare organisation with 700 clinics around the US, it provides contraception, STI testing, cancer screenings, breast examinations and – in some clinics – abortions.
Federal funds – through Medicaid and other low-income healthcare programmes – are almost always blocked from paying for abortion services anyway, but it has long been a demand of many conservatives in the US that taxpayers' money not be used to fund the organisation.
This came to a head when anti-abortion organisation The Center for Medical Progress secretly recorded a Planned Parenthood official discussing how to obtain aborted foetal tissue for medical research, discussing details like how to "crush" the foetus in certain ways to preserve its organs.
Anti-abortion groups said this proved Planned Parenthood was selling foetal parts for profit, but the group disputed this, saying foetal tissue is donated at the discretion of the woman having an abortion.
An estimated four million people a year use health centres funded by Title X. The change will not be limited to Planned Parenthood clinics.
What are Trump's views on abortion?
The US president has changed his mind on the issue over the years. He has gone from being pro-choice in 1999 to being against abortion today, although he says he would allow exceptions such as in the case of rape or incest.
On the presidential campaign trail, he said he believed "some form of punishment" should be in place for women who have abortions, if the practice is banned.
But, after strong criticism, he released a statement saying that only the doctor or practitioner should be punished, not the woman.
He refused to say whether he believed abortion was murder, but he later conceded that he could not disagree with the statement.
Under his administration, Iowa and Mississippi have introduced new laws restricting abortion time limits to six and 15 weeks respectively.
The Mississippi law was later blocked.