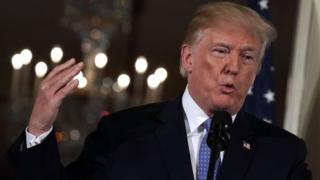 US President Donald Trump has said talks with North Korea could take place "over the next three or four weeks".
"It's going [to] be a very important meeting, the denuclearisation of the Korean peninsula," he said.
Meanwhile, new Secretary of State Mike Pompeo said he had had a "good conversation" with North Korea's leader Kim Jong-un in Pyongyang recently.
On Friday, Mr Kim and the South Korean President Moon Jae-in agreed to work to rid the peninsula of nuclear weapons.
The inter-Korean summit at the border came just months after warlike rhetoric from the North.
Mr Kim became the first North Korean leader to set foot in South Korea since the end of the Korean War in 1953.
For years, Pyongyang has insisted that it would never give up its nuclear arsenal, which it claims it needs to defend itself against aggression from the US.
What did President Trump say?
Speaking at a rally in Washington, Michigan, he said: "I think we will have a meeting over the next three or four weeks."
He said he hoped for successful negotiations on the denuclearisation of the Korean peninsula.
But the president added that he was ready to walk away if the talks did not work out.
North Korea has not publicly commented on Mr Trump's latest statements.
Earlier on Saturday, Mr Trump tweeted that "things are going well" and that preparations were being made for his summit with Mr Kim.
Separately, Mr Pompeo told ABC News that Mr Kim was "prepared to… lay out a map that would help us achieve" denuclearisation.
Mr Pompeo described the North Korean leader as "very well prepared" during their talks in Pyongyang.
US officials are still deciding where to hold the talks between President Trump and Mr Kim – but Mongolia and Singapore are understood to be two countries on the shortlist.
What was agreed at the inter-Korean summit?
Mr Kim and Mr Moon said they would pursue talks with the US and China to formally end the Korean War, which ended in 1953 with a truce, not total peace.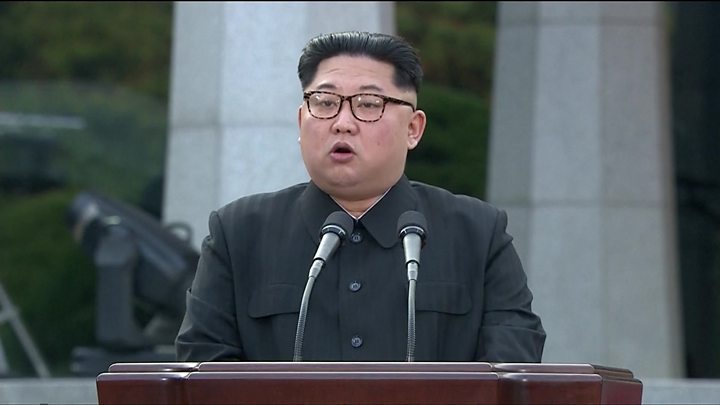 The commitment to denuclearisation does not explicitly refer to North Korea halting its nuclear activities but rather to the aim of "a nuclear-free Korean peninsula".
The statement talks about this taking place in a phased manner, but does not include further details.
Many analysts remain sceptical about the North's apparent enthusiasm for engagement.
Previous inter-Korean agreements have been abandoned after the North resorted to nuclear and missile tests and the South elected more conservative presidents.
Mr Kim said the two leaders had agreed to work to prevent a repeat of the region's "unfortunate history" in which progress had "fizzled out".
Other points the leaders agreed on in a joint statement were:
An end to "hostile activities" between the two nations
Changing the demilitarised zone (DMZ) that divides the country into a "peace zone" by ceasing propaganda broadcasts
An arms reduction in the region pending the easing of military tension
To push for four-way talks involving the US and China
Organising a reunion of families left divided by the war
Connecting and modernising railways and roads across the border
Further joint participation in sporting events, including this year's Asian Games