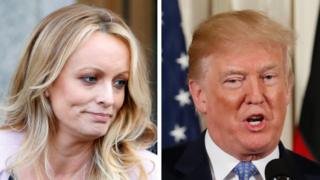 A member of Donald Trump's legal team has appeared to contradict him over a $130,000 so-called "hush payment" to adult film actress Stormy Daniels.
Ex-New York City Mayor Rudy Giuliani said Mr Trump had reimbursed his lawyer Michael Cohen, who paid Ms Daniels the sum during the 2016 election campaign.
The US president had said he did not know about the payment, but recently admitted a "deal" had been struck.
Ms Daniels says the payment was made to keep her quiet over an alleged affair.
"They funnelled it through a law firm and the president repaid it," Mr Giuliani, who recently joined Mr Trump's legal team, told Fox News host Sean Hannity.
He said that the repayment was made "over a period of several months".
Mr Giuliani added that the transaction was legal and did not represent a campaign contribution because it was "not campaign money".
Ms Daniels' lawyer, Michael Avenatti, said that Americans "should be outraged" at Mr Giuliani's comments.
"We predicted months ago that it would be proven that the American people had been lied to as to the $130k payment and what Mr Trump knew," he wrote on Twitter.
After denying the payment, Mr Cohen eventually admitted he had paid the sum privately to Ms Daniels, real name Stephanie Clifford, in October 2016 out of his own funds in exchange for her silence.
He has denied that Mr Trump was a party to the transaction.
In a statement to the New York Times, Mr Cohen said neither the Trump campaign nor the Trump organisation knew anything about the payment, and he said he had not been repaid.
The payment relates to allegations by Ms Daniels that she had sex with Mr Trump in 2006, allegations he denies.
In March this year, Ms Daniels filed a lawsuit against the president, alleging that the non-disclosure agreement was invalid because Mr Trump did not sign it.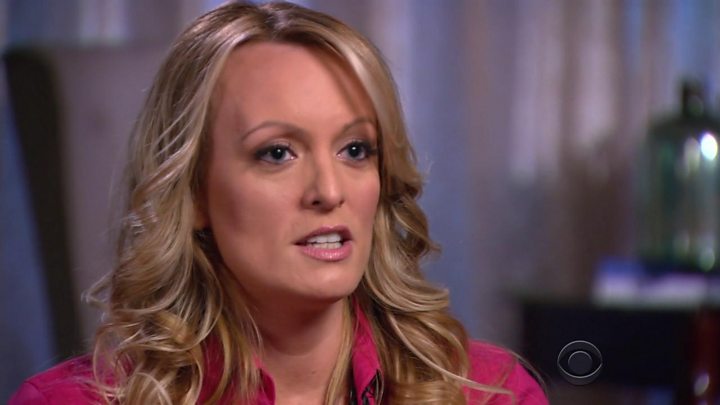 She later lost a court motion for Mr Trump to give sworn testimony about her claim that they had a relationship.
While Mr Trump has denied her claims, his lawyers are seeking $20m in damages from Ms Daniels, arguing she broke the non-disclosure deal.
Ms Daniels is also suing the president over a "defamatory" tweet he posted after she said she was threatened by a man in a Las Vegas car park to drop her allegations of the affair.
Mr Trump said her claims were "a total con job".