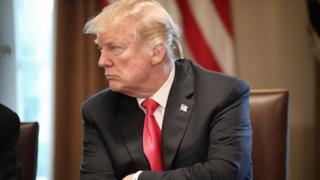 US President Donald Trump has imposed 25% tariffs on $50bn worth of Chinese goods, accusing Beijing of intellectual copyright theft.
Tariffs that affect more than 800 products worth $34bn in annual trade are due to come into effect on 6 July.
The White House said it will take comments on another list of products valued at $16bn and impose further tariffs if China retaliates.
China has already vowed to strike back, raising fears of a trade war.
Mr Trump said the tariffs were "essential to preventing further unfair transfers of American technology and intellectual property to China, which will protect American jobs."
"The US can no longer tolerate losing our technology and intellectual property through unfair economic practices," he added.
The Chinese product lines that have been hit range from aircraft tyres to turbines and commercial dishwashers.
The US wants China to stop practices that allegedly encourage transfer of intellectual property – design and product ideas – to Chinese companies, such as requirements that foreign firms share ownership with local partners to access the Chinese market.
US ambassador Robert Lighthizer said that President Trump "rightfully recognises that if we want our country to have a prosperous future, we must take a stand now to uphold fair trade and protect American competitiveness."
Earlier on Friday, Chinese foreign ministry spokesman Geng Shuang repeated earlier warnings that all trade talks between China and the US would be void if Washington imposed trade sanctions.
"Our position is still the same," he said.
"If the US takes unilateral and protectionist measures that harm Chinese interests, we will respond immediately by taking the necessary decisions to safeguard our legitimate rights and interests."
'Serious' impact
On Thursday, International Monetary Fund (IMF) director Christine Lagarde warned that the Trump administration's trade policies were likely to hurt the US economy and undermine the world's trade system.
She said a trade war would lead to "losers on both sides" and could have a "serious" impact.
While the IMF expects the trade dispute to have relatively minor economic consequences – slowing GDP by a fraction of a percentage point – Ms Lagarde said she was concerned about how the fight would affect sentiment.
"What is more critical and more difficult to factor in at the moment… is the actual impact on confidence," she said at a news conference in Washington.
The IMF said the White House, which has also threatened to withdraw from the North American Free Trade Agreement (Nafta), was responding to rising concerns about the side-effects of free trade.
"These measures, though, are likely to move the globe further away from an open, fair and rules-based trade system, with adverse effects for both the US economy and for trading partners," the IMF said.