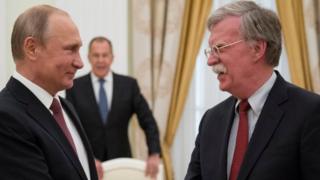 Moscow and Washington have agreed to hold a long-delayed summit between US President Donald Trump and Russia's Vladimir Putin.
The announcement follows a meeting between President Putin and US National Security Adviser John Bolton.
The decision was announced by a Kremlin foreign policy adviser, Yuri Ushakov.
The summit would take place in a mutually convenient third country, with the date to be announced on Thursday, Mr Ushakov said.
After talks with the Russian leader, Mr Bolton confirmed at a news conference in Moscow that Mr Trump would meet Mr Putin in the coming weeks.
"President Trump asked me to come and speak to Russian authorities about the possibility of a meeting between him and President Putin," he said.
Both leaders wanted to use the summit to improve relations between their countries, Mr Bolton said..
"Both President Trump and President Putin feel that it's important for these two leaders of these two critically important countries to get together and discuss their mutual problems and areas of co-operation. It's something that I think both feel will contribute to improvements in the US-Russia bilateral relationship and in stability around the world," he added.
President Putin said his meeting with Mr Bolton had raised hopes for a full restoration of relations, which he admitted were not in the best of shape.
Mr Putin insisted Moscow had never sought confrontation and that, in his view, the poor state of relations was a result of fierce political confrontation inside the US itself.
The date and time of the meeting will be announced on Thursday, Mr Bolton said.
You may also be interested in: