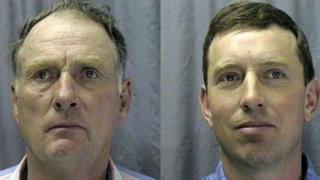 President Donald Trump has pardoned two Oregon cattle ranchers whose sentence for arson led armed militiamen to seize control of a wildlife refuge in 2016.
Dwight Hammond, 76, and his son Steven Hammond, 49, were convicted in 2012 after a prescribed burn on their land spread to nearby public lands in 2001.
The pair served time in jail, but a judge later ruled that they must serve their full five-year sentence.
The ruling sparked anti-government protests that left one rancher dead.
"The Hammonds are devoted family men, respected contributors to their local community and have widespread support from their neighbours, local law enforcement and farmers and ranchers across the West," the White House said in statement on Tuesday.
"Justice is overdue for Dwight and Steven Hammond, both of whom are entirely deserving of these Grants of Executive Clemency."
The Hammonds had claimed that the fire was to fend off invasive species, but prosecutors alleged that it was set to cover up evidence of illegal deer poaching and that it posed a grave risk to firefighters.
A judge had granted them a shortened jail stint, but in 2015 a federal judge ruled that they must complete their full sentences and sent them back to jail.
The case had drawn the attention of limited-government proponents, including the family of Nevada rancher Cliven Bundy who was himself facing charges relating to an armed standoff with law enforcement stemming from a refusal to pay fees for grazing on public lands.
His son, Ammon Bundy, then began a social media campaign backing the Hammonds, and travelled to Burns, Oregon, to organise protests calling for their release.
Mr Bundy and his group, Citizens for Constitutional Freedom, attracted supporters from across a number of states.
On 2 January 2016 the armed militiamen – who were never directly endorsed by the Hammonds- took over the Malheur National Wildlife Refuge and widened the range of demands.
The standoff ended when police arrested several members and fatally shot the group's spokesman, LaVoy Finicum, who they said was reaching for his gun during a traffic stop.
---
Pardon power
Anthony Zurcher, BBC News, Washington
It's not going to get as much attention as the pardons of Arizona Sheriff Joe Arpaio, Bush administration official Scooter Libby or conservative provocateur Dinesh D'Souza, but Mr Trump's recent move sends a clear message to those who are watching.
The president stands with right-wing militias in their disputes with the government.
In the vast stretches of federal territory in the western US, ranchers and government land management officials frequently clash. In the Hammond case, repeated skirmishes and antagonisms ended in arrest and boiled over into a protracted armed standoff that became a rallying cry for the conservative political fringe.
The Obama administration insisted the Hammonds receive a mandatory minimum sentence of five years – but Mr Trump has other ideas. While the president and his administration may espouse rigorous enforcement of the law in other areas, in this case they insist that a vigorous prosecution was unwarranted.
What's more, the president, once again, has shown he is willing to use his pardon power to address what he sees political wrongs. That's a message interested parties – perhaps those in the crosshairs of Robert Mueller's special counsel investigation – won't miss, either.
---
Susie Hammond, Dwight's wife and Steven's mother, told the Oregonian that she was asleep when her local congressman called to say that Mr Trump had signed the pardon.
"We've been waiting a long time. I think it's wonderful," she said, adding: "I still can't believe it. I won't believe it until I see them."