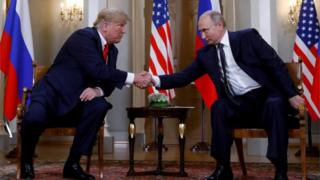 US President Donald Trump is "open" to travelling to Moscow after a surprise invite from Russian President Vladimir Putin, the White House has said.
Mr Putin said on Friday he is ready to travel to the US under the right conditions and has invited Mr Trump to Moscow for a second meeting.
The pair met last week for closed-door talks in Helsinki.
The invite comes two days after the White House said it would postpone Mr Putin's autumn visit until next year.
"President Trump looks forward to having President Putin to Washington after the first of the year, and he is open to visiting Moscow upon receiving a formal invitation," Mrs Sanders said in a statement on Friday.
Her statement was in response to Mr Putin, who earlier had said at a news conference in South Africa that he was "ready" for a follow-up meeting with President Trump.
"We are ready for such meetings. We are ready to invite President Trump to Moscow. Be my guest. He has such an invitation, I told him that," Mr Putin said while speaking at the Brazil, Russia, India and China (BRIC) economic summit in Johannesburg, South Africa.
"I understand perfectly that President Trump has a desire to hold further meetings, and I am ready to come to Washington if appropriate conditions for work are created."
Mr Putin did not detail what "conditions" would have to be met.
He went on to praise Mr Trump, saying he "strives to fulfil the promises, above all, given to voters".
Both leaders have called the Helsinki meeting successful, and Mr Putin rounded on US summit critics earlier this month for wanting to sacrifice the US-Russia relationship over "narrow party interests".
Mr Trump drew ire at the meeting when he contradicted US intelligence agencies by backing away from blaming Russia for meddling in the 2016 election. He later said he had misspoken at the summit.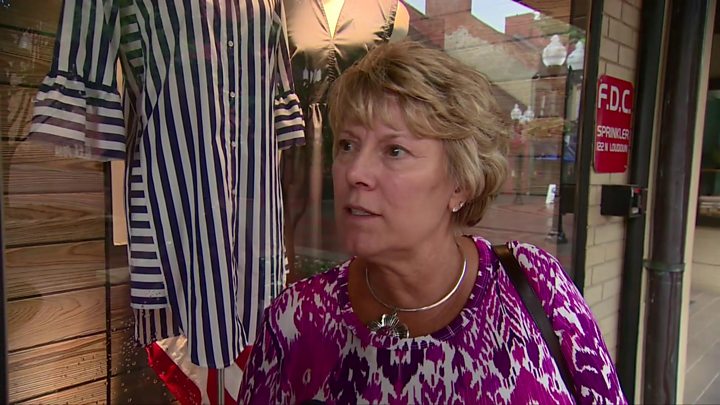 Last week, Mr Trump had suggested that Mr Putin should visit Washington this autumn.
The announcement of a second summit appeared to come as a surprise to Mr Trump's director of national intelligence, Dan Coats, who said he still did not know what the two leaders had discussed during their meeting.
The Kremlin did not immediately accepted Mr Trump's first offer. Kremlin aide Yuri Ushakov told Reuters that it seemed likely a second meeting would happen at an international event both leaders would attend.
On Wednesday, National Security Adviser John Bolton said that the president instead "believes that the next bilateral meeting with President Putin should take place after the Russia witch hunt is over," referring to US special counsel Robert Mueller's investigation into allegations of Russian interference in the 2016 presidential election and whether there was collusion among the Trump campaign team.
Both Mr Putin and Mr Trump deny the allegations.
Mr Bolton suggested the meeting would instead take place in 2019.
Amid talks of a summit sequel, US Secretary of Defense Jim Mattis said on Friday he is "considering" talks with his Russian counterpart.
Speaking to reporters at the Pentagon, Mr Mattis said: "I am considering meeting with my counterpart, but there's been no decision."
If these talks do pan out, they would be the first since 2015.