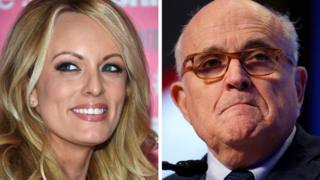 A lawyer for US President Donald Trump has said a porn actress who claims she had an affair with Mr Trump does not deserve "respect" due to her sex work.
"I respect women – beautiful women and women with value – but a woman who sells her body for sexual exploitation I don't respect," said Rudy Giuliani.
"Someone who sells his or her body for money has no good name," he added.
A lawyer for actress Stormy Daniels, who is suing Mr Trump for defamation, called Mr Giuliani "an absolute pig".
Speaking at an investment conference in Tel Aviv, Israel, Mr Giuliani told a panellist: "I'm sorry I don't respect a porn star the way I respect a career woman or a woman of substance or a woman who… isn't going to sell her body for sexual exploitation."
"I mean, she has no reputation. If you're going to sell your body for money, you just don't have a reputation. I may be old fashioned." he continued.
In response, Ms Daniels' attorney, Michael Avenatti, called the former New York mayor a "misogynist".
He added: "His client Mr Trump didn't seem to have any 'moral' issues with her and others back in 2006."
The president and the porn star: Why this matters
Ms Daniels claims that she and Mr Trump had sex once during a golf tournament in Lake Tahoe.
In April, Ms Daniels sued Mr Trump, accusing him of attempting to tarnish her reputation.
Trump dismisses Stormy Daniels sketch
Mr Trump is suing the ex-porn actress, real name Stephanie Clifford, for violating a non-disclosure agreement.
She was paid $130,000 (£97,000) by another Trump lawyer not to disclose the alleged dalliance.